His palace looks like a kiosk – Otumfuo's subchiefs berate Abuontemhene before destoolment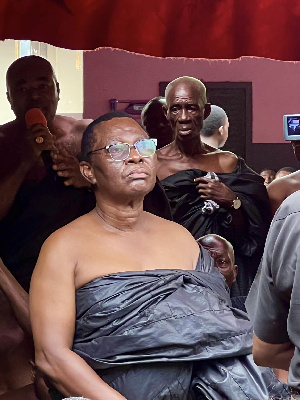 On Monday, August 21, 2023, the Asantehene Otumfuo Osei Tutu II issued a decree for the destoolment of the chief of Abuontem, Nana Kwaku Duah II.
This was after Nana Duah had failed to defend himself over charges pressed against him during a sitting of the Asanteman Traditional Council headed by Otumfuo.
His charges included defying Otumfuo's orders by accessing a land under litigation when the Asantehene had placed an injunction on the said land.
He was also accused of indiscriminate sale of lands and failing to ensure development in Abuontem.
As usual with proceedings at the Manhyia Palace, the various subchiefs before the Asantehene delivers his judgement on a matter were given the opportunity to express their opinions and as well counsel his majesty on the matter based on the facts at hand.
In the case of Nana Kwaku Duah II, almost all the chiefs who spoke called for his destoolment for failing to live up to his mandate while others harshly criticised him over his conduct as a chief and a servant of Otumfuo.
"What we the Nifa chiefs have to say is that he has defied the sacred orders of Asantehene. He (Otumfuo) issued an injunction on the land and he defied it. On three occasions, even the developers who are not chiefs dared not to defy Asantehene's order but for someone who has been given a post by Asantehene you dared to enter the land.
"When the committee queried you, you claimed that Asantehene has ruled in your favour. Would the Asantehene have set up a committee if he had ruled on the matter?
"You have been a chief for 37 good years making you one of the most experienced chiefs in this house, we should be learning from you. But you rather joked with the orders of Asantehene.
"My lord, if you go and see the palace he lives in you will be marveled. It is worse than a kiosk that is painted in red, gold and green colours. Even schools in his community are not in a good state.
"He has left the community and resides in Asafo where he rules from. My Lord, he has gone beyond pardon so please sack him," the spokesperson of the Nifahene group stated.
In the same tangent, other chiefs who spoke on the conduct of Nana Kwaku Duah accused him being a bad chief who has led a bad example among his subjects and other chiefs at the Manhyia Palace.
Delivering his verdict, Otumfuo Osei Tutu II expressed disappointment in Nana Kwaku Duah warned other chiefs to take a cue from his fate.
"You are the very person who run here to lodge a complaint about some contractors selling off lands. I called the matter and asked the people and their answer was that it was serviced plots. I issued an injunction and asked that everyone holds off until I make a determination…
"In order for peace to prevail I set up a committee to look into the matter. I've always said that lands don't run away so you should take your time when issues come up. You are the very person who brought the issue and you were happy when I issued the injunction.
"You then turn around to sell off the lands and access it. You wanted me to stop them just so you can have the land to yourself, right? For daring to go against my decree, you have defied my orders and you will no longer be a chief," Otumfuo declared.
The Asantehene in the past few weeks has been adjudicating on matters before his court including cases against chiefs.
Otumfuo in recent weeks has ordered the destoolment of a number of chiefs on various grounds including involvement in illegal mining, abandonment of stool and rampant sale of lands.
Watch video below:
Source: www.ghanaweb.com