'Gobe', what it means and what it used to be called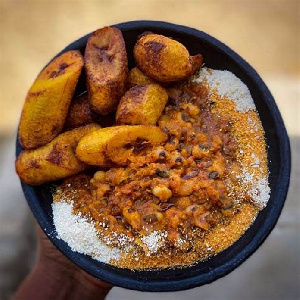 The delicacy, Gari, beans and fried plantain otherwise known as 'Gobe' is undoubtedly one of the most sought-after meals in the capital.
It is one of the meals that is enjoyed by all classes of people in society, rich, middle class and even the poor.
Whether for breakfast, lunch or supper, every joint that sells 'Gobe' is crowded with customers always.
The slang 'Gobe' as explained by some sections of the public is an abbreviation for – Gari, Oil, Beans, Egg.
The meal comprises carefully cooked black-eyed beans, served with fried ripe plantain, flaked cassava granite (gari) and red palm oil. Some 'Gobe' lovers go ahead to add pear, eggs other protein foods.
As popular as the name 'Gobe' is getting, some sections of the Ga community are not happy with the change of name from what it is originally known 'Yo ke gari' (Beans and gari) or 'tatale'. One such is Ghana's former Attorney General Ayikoi Otoo, who sees the change of name as a deliberate effort to get rid of the indigenous language of the Ga people.
Speaking on Accra-based Joy News, the proud Ga man, Ayikoi Otoo began by criticizing what seems to be the attempt to replace the Ga word of welcome which is 'awaawaa atuu' to what 'akwaaba'.
"We are in Accra land, we have our gods, our customs and our traditions, this can be done and shown to other people who visit. Why is it that only in Accra it's no more, now you can import people to come and dance and show other people? Who says we don't have an equivalence on 'akwaaba. We use to say 'awaawaa atuu'. When we were young. you will leave the nuclear house, and go to the extended house and immediately the old people see you, they run to you and say 'awaawaa atuu' and then that is welcome.
"The Dagme people will say 'mo yhee mo yhee', we have them. But deliberately saying that you don't have them so it should be replaced with 'akwaaba'. Everywhere you go should be 'akwaaba', you cant say 'awaawaa atuu'. Even when were young at the airport we used to have 'awaawa atuu', around the Big Six time, I remember 'awaawa atuu' and the rest but now why," he added.
The former Attorney General bemoans the sudden change of name of one of the most loved delicacies from what it used to be to now, 'Gobe'.
"I was giving an example when you people were talking about food, I wrote to you that we used to say 'Y) k3 Gari' or 'tatale' now all of a sudden 'Gobe'. When you were growing up, did you hear anything called 'Gobe? So, why is it that the Ga word, 'Y) k3 tatale' or 'Y) k3 gari' should now give way to something they call 'Gobe," he said in disagreement.
In responding to the presenter who justified the change of name as an evolution, Ayikoi Otoo interjected to say that there is nothing evolution about the change of name but rather an attempt to push away the Ga people.
"There is nothing evolution and that is why I am telling you that what you are doing is dangerous and you should stop it, you should stop it. Rawlings came and say how he used to eat 'Y) ke gari', why didn't he say 'I used to eat Gobe' was there any word like that?
"So, why is there this deliberate thing to push the people away," he added.
Source: www.ghanaweb.com