Ghanaians and Nigerians unite to attack England player for silly foul on Falcons player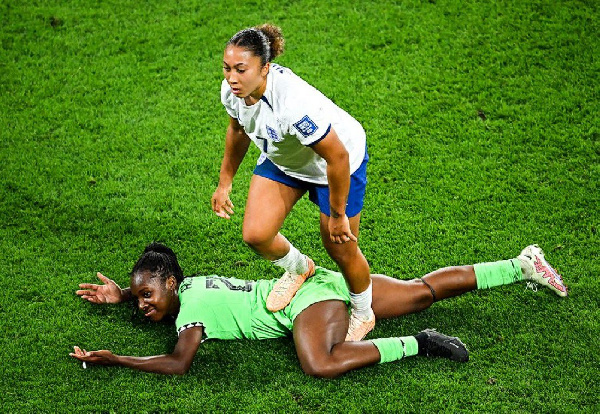 Ghanaians and Nigerians on social media have descended on England women's national team star Lauren James for stamping Super Falcon player Michelle Alozie.
James, sister of Chelsea right-back Reece James, pushed Alozue to the ground before deliberately stamping her after the full-back dispossessed her.
The referee whistled for a foul and showed the Chelsea winger a yellow card but rescinded the decision and sent her off after a VAR review.
On social media, Ghanaians and Nigerians slammed James' stunt. Football fans have also spoken out against her.
Lauren James is in contention for the Player of the Tournament award after scoring 4 goals and providing 3 assists in four games but she may have played her last game of the tournament.
England, despite being a woman down, went on to beat Nigeria 4-2 on penalties to progress to the quarter-finals.
Checkout some reactions below
That was very silly from Lauren James. Clearly frustrated all game and her tournament could be over.

— Owuraku Ampofo (@_owurakuampofo) August 7, 2023
I love Lauren James but what a stupid thing to do at this level. She's been sent off for stamping on one of the Nigerian players, Michelle Alozie. pic.twitter.com/h4x1JRthou

— Dean (@DeanCFC_) August 7, 2023
Lauren James Red card, I knew she won't side with colonisers.

— Orsteen ???? (@_orsteen) August 7, 2023
DISGRACEFUL from Lauren James. ???? pic.twitter.com/fLd8n6qv7M

— POOJA!!! (@PoojaMedia) August 7, 2023
Oshoala >>>> Lauren James everyday in this life

— BIG AYO???? (@47kasz) August 7, 2023
That should've been a red for Lauren James. Disgraceful behaviour.

— Yaw (@theyawofosu) August 7, 2023
Silly Silly Lauren James. Silly

— Saddick Adams (@SaddickAdams) August 7, 2023
So unnecessary James. pic.twitter.com/DL9iOvLfh1

— KALYJAY (@gyaigyimii) August 7, 2023
Lauren James won't be remembered for her heroics with that stupid reaction. I hope it cost them dearly. Nigeria deserves to be in the quarter finals

— Sporting King (@sportingking365) August 7, 2023
She just spoilt good reputation ????

— OLAMEDAL (@OLAMEDA47) August 7, 2023
The @Lionesses down to 10 as Lauren James has a Beckhamesque moment of madness.

— Gary Lineker (@GaryLineker) August 7, 2023
Lauren James finally saw real competition and she choked ???? #ENGNGA #FIFAWWC pic.twitter.com/Kjg4GSLzYN

— Hendrix (@KillHendrix) August 7, 2023
Lauren James is out…very silly #ENGNGA pic.twitter.com/cHPMao5jIw

— Harry (@iam_harryberry) August 7, 2023
WATCH Our latest Episode with Kennedy Agyapong in South Africa below:
Source: www.ghanaweb.com