Ghanaian in US reports Cecilia Dapaah to FBI, IRS other agencies over missing US$1m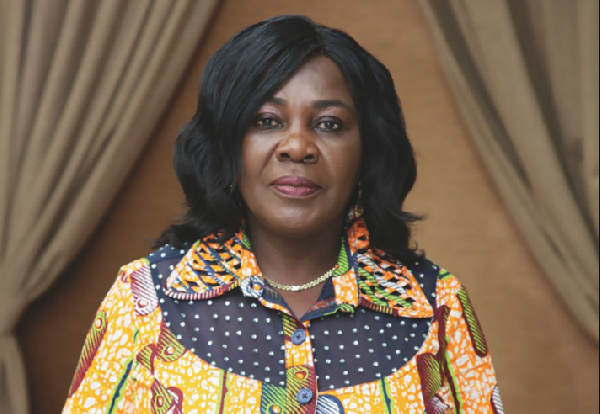 The woes of former Minister for Sanitation and Water Resources in the unending issue of monies stolen from her residence seems to be worsening by the day.
The latest of her troubles is a report filed with several US government institutions calling for an investigation on suspected grounds of money laundering.
The complaint is in specific reference of the amount of US$1 million which was part of the total amount of monies allegedly stolen from her private residence by domestic workers.
According to Grace Loki who has filed the petitions, she was motivated by her lack of faith in the Ghanaian government and institutions to ensure thorough investigation into the matter.
"Not just the FBI alone; I've written to the FBI, the Federal Reserve, Treasury Department, the DEA and just about every US government institution interested in issues of money laundering and the main reason is that I don't have any confidence that Nana Addo will use ways and means to ensure the woman gets away with the issue.
"Whatever it takes, Nana Addo will make sure the woman walks away, we have seen some before even under the NDC.
"I will make sure that if she has any property in the US, she is investigated by IRS and made to pay taxes. We all pay taxes here in America and even when we send money back to Ghana to invest, we are required by law to file taxes to the American government. We are supposed to file taxes after declaring profits, I don't know if Cecilia Dapaah has paid the required taxes on the dollars that was stolen by the workers. But everyone is supposed to pay taxes on their dollars even if she won a lottery," she stated during an interview on OBGhPage in a Facebook live.
The controversy around Ms. Dapaah followed a recent report in which some domestic workers of the then minister are reported to be facing charges for allegedly stealing sums of US$1million, €300,000 and GH¢350,000.
The former minister and her husband are also said to have suffered material losses including GH¢95,000 worth of clothes, US$35,000 handbags, US$1,400 assorted perfumes, US$95k assorted jewelries and GH¢95,000 worth of assorted Kente.
Amidst heavy public criticism, corruption and money laundering concerns against the presence of such amount in the ex-minister's home, Host of Good Evening Ghana on Metro TV, Paul Adom-Otchere had sought to justify the source of the monies.
The journalist during an episode of his show explained that some $800,000 out of the stolen $1 million belonged to a late brother of the former minister. Nana Akwasi Essan II.
However, according to Grace Loki, who is a resident of Bantama in Kumasi where Madam Dapaah and her family are originally from, it is unconvincing that the late brother of the former minister had such money
"All I am saying is that the money Paul Adom-Otchere is saying belongs to the deceased brother of Cecilia Dapaah which specifically is Nana Kwaku Nantwi who was a shoemaker; although I am not in his pocket to be able to determine his net worth, what I know is that I met him at Santasi Roundabout where he was broke, had run out of fuel and I had to buy fuel to fill his car. That incident is quite recent, not more than two years ago.
"So if he had $800,000 which he had given to his sister to keep I would think of him as very useless. He is my friend, so I feel pained that he is being dragged into all of this especially because he is even no more," she said.
Cecilia Dapaah amidst the recent controversy resigned from her position explaining that she does not want the issue to be a distraction to the government.
The Office of the Special Prosecutor which has received various petitions against her has arrested her in a corruption and corruption related investigation and granted her bail following a search at her residence.
Meanwhile, the wife of the former minister's late brother, Irene Kensah has revealed that she had no idea of her husband having such an amount of money prior to his death.
She has however instructed her lawyers to commence legal processes towards retrieving the amount as part of her share in her late husband's assets.
Watch video below:
WATCH Our latest Episode with Kennedy Agyapong in South Africa below:
Source: www.ghanaweb.com