Ghana Club Celebrates Kwaw Ansah & King Ampaw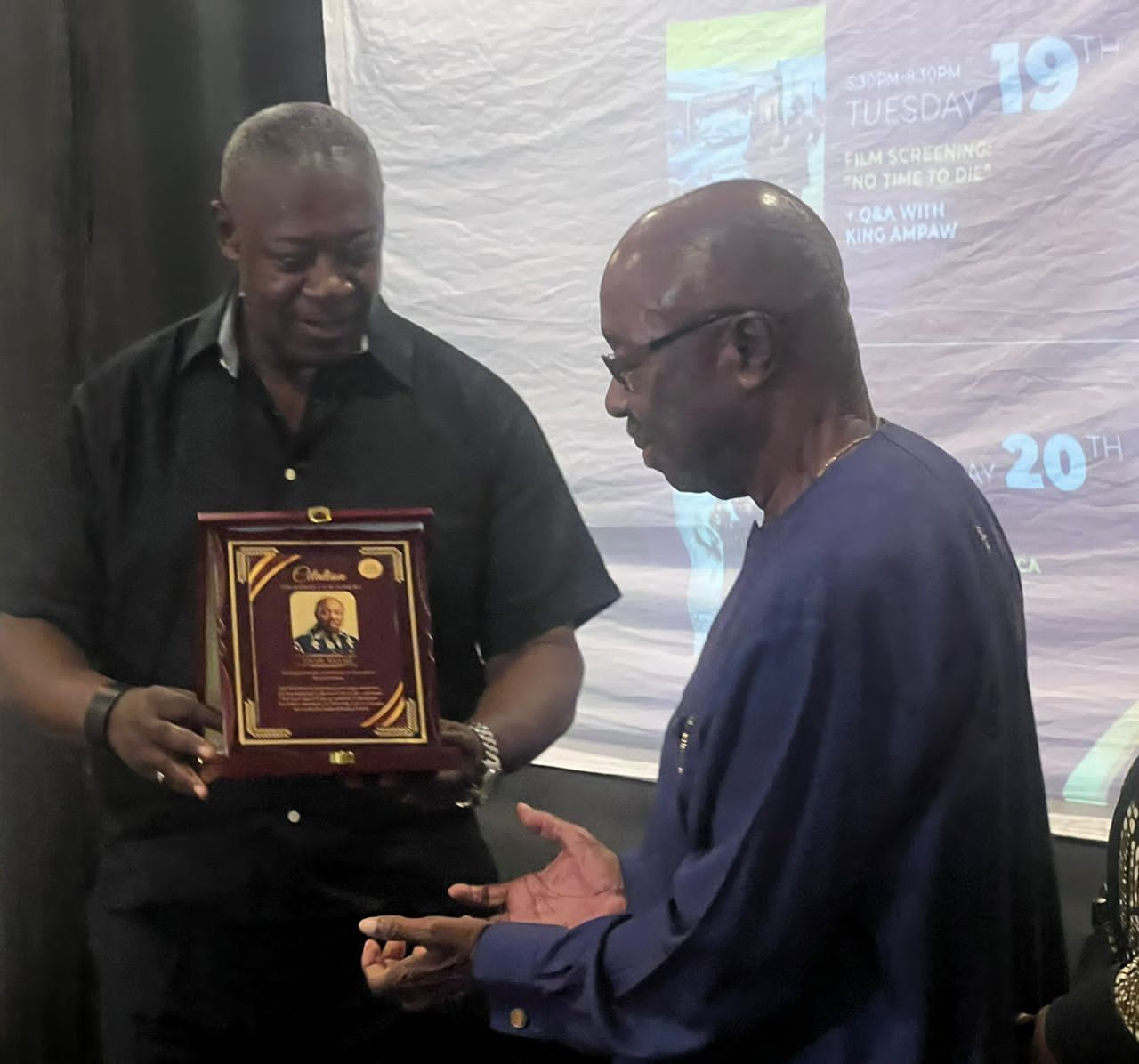 Prof Agyeman Badu Akosa (left) gave Kwaw Ansah his citation
By Kouame Koulibaly
The management and members of the Ghana Club in Accra knew they had surpassed themselves when their two-day celebration of two of their own in the film business ended successfully on September 20, 2023.
It was a heartwarming finale to the two-day event tagged 'Film Pioneers Achievement Gala' at the Ghana Club, which member and emcee, Fritz Baffour, described as 'hallowed ground' because the people who founded it in 1947 played significant roles in the nation's quest for political independence.
The two filmmakers were King Ampaw and Kwaw Ansah. The latter's humour-drenched 'No Die To Die' film was screened on September 19 after which he interacted with Club members and their guests. He explained the motivation behind the 2006 film and added he had not regretted being introduced to Ghana Club in 1979 by the late actor, George Andoh Wilson.
It was the turn of Kwaw Ansah's 'Heritage Africa' on September 20. It was preceded by two short documentaries made by Sarah Kuntoh, a lecturer at the National Film and Television Institute (NAFTI). The pieces were about some film industry folks' impressions about the work and personalities of the two honorees.
Dr Adrian Oddoye, the President of Ghana Club explained, after the warm applause for 'Heritage Africa,' that promotion of Ghanaian interests had been the original and sustained aim of the Club's founders and those who have followed them. He said it was a honour to see the two filmmakers present to receive citations for their impressive work over the years.
The Club's Vice President, David Addo-Ashong, pointed out that great people who have contributed a lot to the development of this country had been members of the Club and history must recognize their achievements. The Club had therefore embarked on a series of programmes to do just that.
"We have chosen to select luminaries that represent different aspects of our society. We have started with the arts and we hope to continue with other sectors so they provide inspiration to the younger generation. Ghana needs a renaissance. If we follow the achievements of these great men, we will get somewhere and that's what this series is about," the Club's Vice President stated.
Jerry Obodai-Sai, one of the most senior members of the Club, presented King Ampaw with his citation. Kwaw Ansah received his from Prof. Agyeman Badu Akosa.
The citations praised the two men for their remarkable contribution to the world of cinema, adding: "Your dedication to storytelling and unique vision have not only captivated audiences in Ghana but worldwide; and also inspired future generations of filmmakers. Your impact and legacy will definitely preserve the past and ensure the future of Mother Ghana.
Kwaw Ansah was grateful for the initiative to honour them. There was a loud applause when he added: "Ghana Club makes me feel I have not worked in vain."
David Dontoh acted in both 'No Time To Die' and Heritage Africa' and he was on hand to thank the two film directors whom he described as mentors.
He pledged that he and others who had benefitted from the association with the two men would endeavour to pass on what had learnt to future generations.
It was a lighthearted atmosphere with a lot to eat and drink for everyone around in recognition of two of our esteemed filmmakers.