Happy Man Bitters Boss Pushes For Comedy Support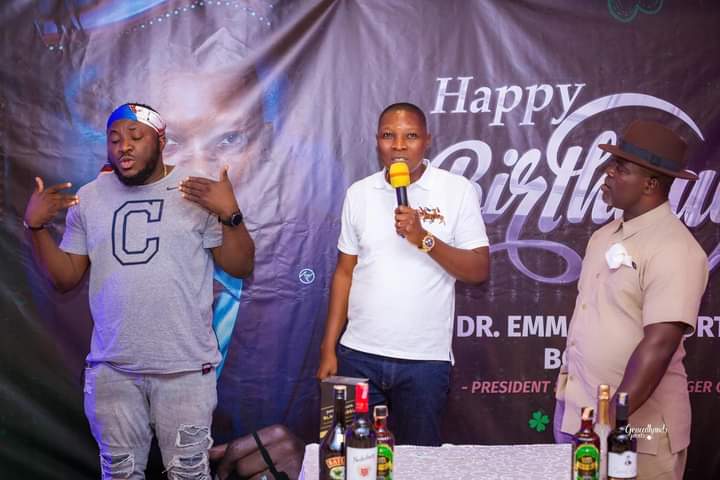 Charger Group Limited, producers of of Happy Man Bitters CEO Dr Emmanuel Bortey Borketey is calling for the need to accord the comedy industry the attention it deserves in Ghana.
To him, in the burgeoning comedy industry in the country lies great potential for stakeholders to explore.
The businessman was among high profile dignitaries that attended the well attended Comedy Express Show, headlined by renowned comedian DKB and other talented comedians.
Consequently, Dr Borketey, a prominent figure in the Ghanaian community, has expressed his support for Ghanaian comedy and emphasized the need for increased backing from the public and recognition at the international level.
The Comedy Express event, held at a packed venue, showcased the remarkable talent and wit of Ghana's comedians.
The audience was treated to an evening of laughter and entertainment, as DKB and his fellow comedians delivered outstanding performances that had everyone in stitches.
Dr Borketey, an avid supporter of the arts, shared his enthusiasm for the event, commending the performers for their dedication and skill.
In a post-event interview, Dr Borketey stressed the importance of providing the necessary support and resources to empower young creatives, enabling them to compete on the global stage.
Dr Borketey believes that Ghanaian comedy has what it takes to become a formidable force internationally, and that with the collective efforts of the public, it can achieve the recognition it deserves.
"Comedy is an art form that holds tremendous power. It has the ability to unite people, evoke laughter, and challenge societal norms. Ghanaian comedians possess immense talent and potential, and it is our duty to support and nurture their growth," he stated passionately.
He encouraged individuals, organizations, and the government to invest in the development of the comedy industry by providing financial support, creating platforms for exposure, and fostering collaborations with international comedy networks.
The business mogul believes such efforts, will not only uplift the comedians but also contribute to the cultural and economic growth of Ghana.
Dr Borketey urged Ghanaians to attend comedy events, patronize local comedians, and spread the word about the incredible talent present within the country.
He emphasized that through collective action, the comedy industry in Ghana can break barriers and achieve recognition at the international level.