GFA Exco member Sammy Anim involved in an accident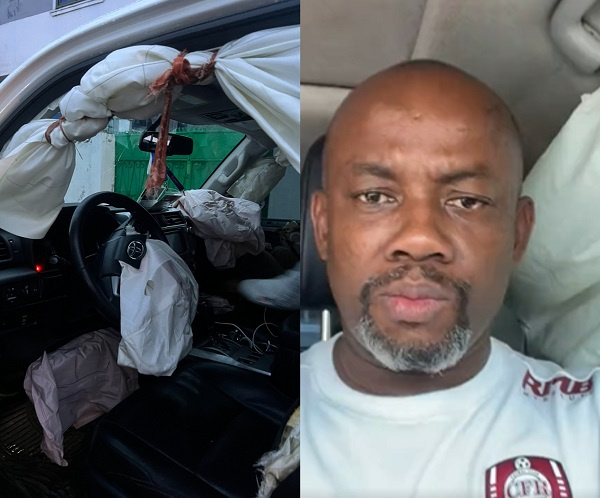 In a miraculous turn of events, Sammy Anim Addo, a prominent member of the Ghana Football Association Executive Council, emerged unscathed from a frightening car accident that took place on Saturday, August 19, 2023, along a national highway.
The incident occurred shortly after passing Suhum on the Accra-Kumasi highway. Thankfully, all three occupants of the vehicle remained uninjured, a fact understood by GHANASoccernet.com.
Anim Addo, who also serves as the chairman of Division One League team Young Apostles, was en route to the Garden City to attend the Division One Super Cup taking place at the Dr Kwame Kyei Sports Complex.
During the ordeal, Anim Addo's Toyota 4 Runner unexpectedly drifted across lanes onto the opposite side. Fortunately, no oncoming vehicles were present in that lane.
Skillfully regaining control of the vehicle, the car had a minor collision with a Toyota Matiz; however, no significant damages were incurred.
This incident will forever mark a significant day for the football administrator, who was concurrently celebrating the successful transfer of Emmanuel Yeboah, one of his players, to the Danish side Brondby.
Source: ghanasoccernet.com