Fetish priest who stormed Nima to stop demolition exercise but got arrested speaks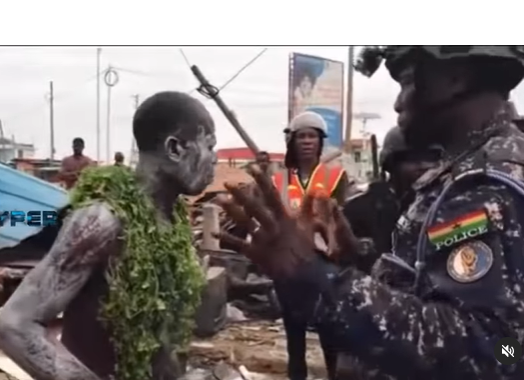 The fetish priest, who was arrested by the police after attempting to stop a demolition exercise in Nima, a suburb of Accra, has spoken up for the first time.
Speaking in an interview on Kofi TV, the fetish priest, who identified himself as Nii Odi Asempa, said that the land the demolition exercise was happening on belongs to his family.
He said that after hearing of the demolition; he rushed to the site to teach the people involved in the exercise a lesson, but the police intervened.
"If something belongs to us, no one can seize it unless we give it out freely. We are the owners of Nima; we are the Odoakwas.
"I was there, and I got the message that some people were bringing down buildings on our land. I came there with anger; I called our ancestors, and they told me how to proceed to the site, so I had in my hand alcohol and a charm.
"…the land belongs to us, but nobody told us anything. All we saw was police officers, soldiers, and fire service men coming to our land and doing what they want. So, I went there to teach them a lesson, but I had mercy on them because of God," he said in Twi.
He added that as he was pouring the libation to strike the people doing the demolishing with a curse, the policemen started pleading with him to be calm, only for them to put him in a car and send him to "Striking Force".
Nii Odi Asempa did not indicate whether he was charged with a crime by the police but said the government has done his family a great disservice by attempting to take their land without their permission.
Watch Nii Odi Asempa's remarks in the video below (from 9:00)
Source: www.ghanaweb.com