Dormaa Central chiefs slaughter sheep on feet of alleged gay to pacify gods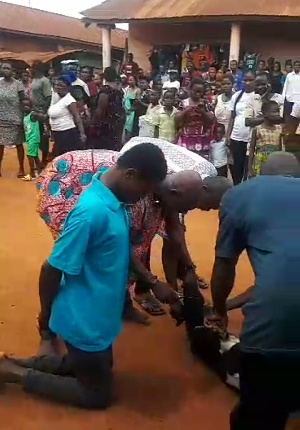 Chiefs and elders of Aboabo No 2, a suburb of Dormaa Central Municipality in the Bono region have slaughtered sheep to pacify gods over alleged gay activity exhibited by a young man who is said to be a native of the community.
In a video captured by this reporter, the young man is made to stand in front of the town's palace amid a crowd. A libation is poured with schnapps onto the ground, and at some point onto his head. The elders then slaughter a sheep unto his feet to pacify the gods.
According to sources, the boy in his early 20s, identified as Damoah Christian confessed to being gay after he was caught dressed in feminine apparel by a group of young men at Dormaa Ahenkro.
The group which then decided to send him to the Dormaahene's palace was later advised to send him to his chiefs in Aboabo No.2 for the pacification process since the Dormaa overlord was not around.
At the Aboabo palace, it was revealed that this same Damoah Christian was apprehended sometime ago by someone while they were practicing the same act.
Some other eyewitnesses who earlier spoke to GhanaWeb disclosed that Damoah who usually prefers the female portion sometimes travels outside the area to trade in the 'gay' business with other men.
Nana Kwaku Yeboah Ababio who is the Kuasehene and chief of Aboabo No 2 disclosed to GhanaWeb that it was taboo for someone to practice such an act in the area.
Confirming the boy as being a native of the community, the chief disclosed that the young man after appearing before the elders at the palace confessed to being a practicing gay, hence the subsequent decision to pacify the gods.
"The Bible hates this act, and in the same manner, our culture frowns on it. We performed this ritual to prevent any future occurrence of such acts in the Kuase area, including the whole Dormaa traditional area. The boy in question is a true native of this land. We don't want to see him practicing it henceforth. What he did is a taboo and a disgrace to the entire Dormaaman," he said.
"Why would a white man encourage people to practice these filthy acts under the pretext that it's a human right? This is rather a human left. Under what conditions should we accept this to defame our rich culture? Or is it because of the money they're going to give us? What will the money do for us after this thing has destroyed our lives? We are never going to entertain it," he added.
He, however, advised the rest who want to practice same act within the area to desist from it since the community was never going to condone it.
Source: www.ghanaweb.com