Asuogyaman District: Pupils of Adomi basic school study on bare floor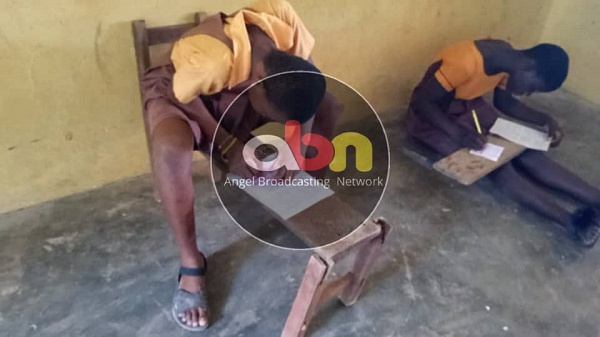 Pupils of Adomi D/A Basic school at Adomi, a suburb of Atimpoku in the Asuogyaman District of the Eastern Region, have no access to furniture such as dual desks to study on.
The lack of furniture in the school has forced students at the lower and upper primary levels to sit on bare floors, and benches while others sit on mats to write during study hours.
Sources had it that the situation at the school has been in existence for decades as efforts made by authorities of the school to get enough furniture for the students have proven futile.
Although the headmistress and other teachers at the school declined to comment on the matter for fear of being victimized and sanctioned by the higher rank of the Ghana Education Service, community members say the situation is negatively affecting the performance of their wards in the school.
According to some community members who spoke to Angel News on anonymity, the persistence of the furniture problem is preventing the student's quest for quality education.
The District Chief Executive for Asuogyaman District, Samuel Kwame Agyekum, when contacted via phone call, admitted the challenge but noted it is beyond their strength.
"Am aware of the situation in the school but currently the assembly cannot come to their aid, so we need support from the benevolent, NGOs to help curb the challenge through your publication," the DCE told the reporter Jaman Dehyee Opambour.