Anger as Ghanaians online react to news of people queuing in rains at US Embassy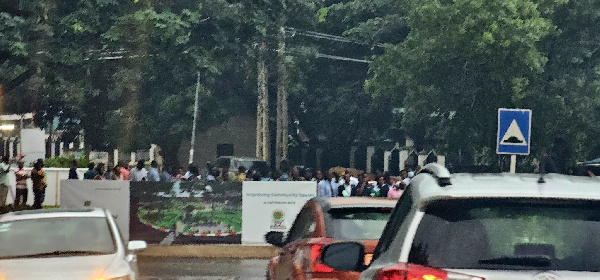 A number of online users have poured online in reaction to
GhanaWeb
's earlier report on how hundreds had massed up in queues at the United States Embassy in Accra.
The anger of these Ghanaians have been about how these several people were queued up in the open when it was still raining.
The information was shared by Metro TV journalist, Annie Ampofo, with photos that showed how concerning the situation was.
But some online users who commented under her tweet have described the situation as a repeated one.
One user, @Hon_Dave1, wrote that it is "Becoz ur prez & ur foreign affairs minister #AyorkorB are not serious. This has bn reported on several occasions meanwhile, the US amb has a large space in there to create a pavilion for pple to sit while waiting for their interview section."
Another user, @kobberbronnie wrote that, "They will continue to treat us this way since we have lost a sense of belonging and the desire to make our own home. If you don't appreciate what you have, and work to make it better, don't expect anyone else to appreciate you, not even the mad person on the street."
@PrinceKOTzGh also wrote that, "When we stop begging and borrowing and start behaving like Niger, Burkina and Mali."
One other user, @oduro_kweku, believes that this situation has been allowed to pester because the leaders in Ghana allowed it.
"This should tell our leaders to their best when giving power. No one will treat u badly without u allowing dem. Our leaders allowed this treatment," he wrote.
As for @AshyraJnr, he said this situation is not akin to foreign embassies like the United States Embassy. Replying to the originator of the tweet, this user said that a number of Ghanaian institutions also treat applicants similarly.
"But our institutions do the same thing to us (Ghanaians). @AAA_Grey stop being a hypocrite. You know what goes on in some of our institutions. Apply for forces den see," he wrote.
See other reactions below:
Source: www.ghanaweb.com