Akufo-Addo's presidential chair 'missing in action' at Theresa Kufuor's Kumasi funeral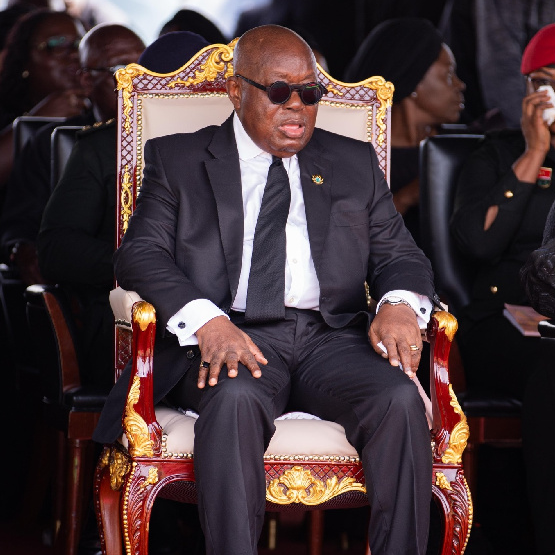 President Nana Addo Dankwa Akufo-Addo led a high-powered government delegation to the final funeral of late First Lady Theresa Kufuor.
The event took place at the Heroes Park in Kumasi on November 18, 2023 after a state funeral during the week at the forecourt of State House in Accra.
Akufo-Addo was spotted under a dais reserved for government officials flanked by his wife, Rebecca and Vice President Mahamudu Bawumia.
Photos available to GhanaWeb showed that the president was sitting on a chair provided by the event organizers contrary to what has become the presidential chair that accompanies him for all internal travels and engagements.
The president had actually used his preferred chair last Wednesday when he was in Kumasi for the inauguration of a library at Bantama in his honour. He also used it during the state funeral and at the commissioning of military officers.
It is not known why the chair did not travel with the president to Kumasi for the funeral.
The chair has become the centre of controversy with opposition voices accusing the president of having dedicated a full V8 to transporting it, an allegation that has been refuted by the government.
The photo of Akufo-Addo at the Kumasi funeral is owned by Accra-based Citi FM/TV, used on grounds of fair use
Source: www.ghanaweb.com