Akrobeto advises Efia Odo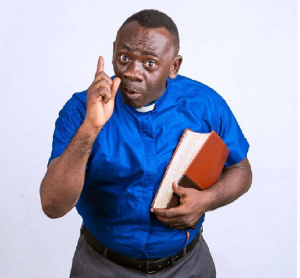 Celebrated Kumawood actor, Akrobeto, has advised Efia Odo about a comment she made concerning the type of man she would want to be with.
Following a statement made by the socialite cum actress that she is not willing to be with a man who is yet to become rich, adding that she would not even go close to the man, Akrobeto has shared some advice with her.
Emphasising his 'Nobody knows tomorrow' phrase and as part of hosting his Real News program on UTV, shared by Nkonkonsa on Instagram, the actor said that Efia Odo does not know what the future holds thus, the man she thinks is not rich today will in some few years experience a breakthrough in life.
"Efia, let me tell you something. Efia, nobody knows tomorrow as I always say it. What we see today will be different from what we will see tomorrow. As you see Boamah hustling today, in two to three years later, Boamah will change, and things will turn out well for Boamah".
"You should remember that you were once unpopular in Ghana but as times went by, people got to know you. This also implies that the man you think does not have money will one day make it in life", he said.
Stating his life story to back his claims, Akrobeto went ahead to disclose how his first girlfriend left him for a footballer who was richer than him but now, he has gained recognition in Ghana and beyond.
"Let me use myself as an example. I have hustled before. The lady I was with through my hustle was in America but she left me because she felt I was nobody. But today, if not for anything, my name is being mentioned in Ghana and other countries. So, nobody knows tomorrow", he said.
Check out the video below:
Source: www.ghanaweb.com