Accra: 66 dead, 24 injured in fire outbreaks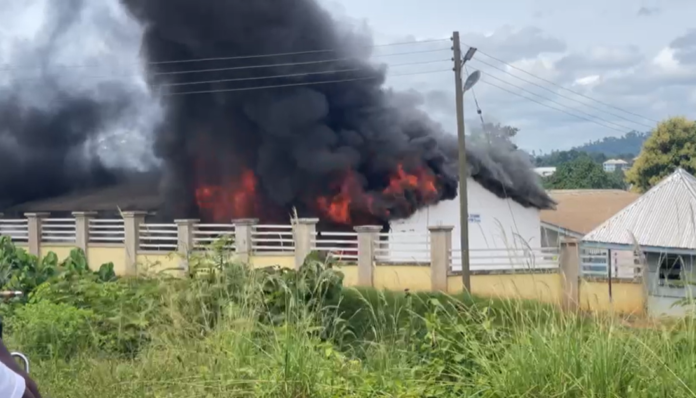 At least 66 persons died and 24 others suffered in­juries due to fire outbreaks and other related incidents in the first half of this year as against 69 deaths and 162 injuries the previous year, the Greater Accra Regional Fire Command has said.
Similarly, 662 fire outbreaks were recorded within six months as against 640 fires within the same period last year, representing three percent increase in the fire outbreaks attributed to human behavior in the region.
The Accra Regional Com­mander of the Ghana National Fire Service (GNFS), Assistant Chief Fire Officer (ACFO) Grade One, Roberta Aggrey Ghanson, disclosed this at an engagement with journalists in Accra yesterday to discuss issues related to fire outbreaks in the region.
It also formed part of this year's fire educational campaign to create fire safety awareness to the public.
The programme, which was on the theme "60 years of existence, fire safety: the choice for safer environment", brought together Municipal Fire Commanders, senior and junior officers from the regional command.
ACFO I Ghanson said domes­tic fires top the cases with 234 as compared to 197 fires in 2022, representing an increase of three per cent, all attributable to human behaviour.
She stated that the media had contributed immensely in bringing the Service's vision to bare consid­ering its function of educating the public.
ACFO1 Ghanson said the Com­mand also in the first half of 2023 responded to 22 rescue incidents as well as 22 road traffic accidents.
She said the estimated cost of damages caused by fire outbreaks in the first half of this year was GH¢34,590,914.00.
ACFO1 Ghanson said the Gha­na National fire Service (GNFS) would sensitise members of the Metropolitan, Municipal and District Assemblies and market women.
She said the Service would also inspect national installations, undertake stimulation exercise, and meet with operators of event cen­tres, club houses, drinking spots and night clubs.
The Accra Regional Fire Safety Officer, Divisional Officer Grade One (DOI), Evans Osei Owusu, stated that the role of the media was crucial in addressing fire safety issues in the country.
He urged journalists to col­laborate with the GNFS in its education drive to ensure that lives and properties were saved in the country.
DOI Owusu urged the public to desist from attacking GNFS personnel while on duty.
The Deputy Director of Oper­ations, DOI Joseph Kofi Forson, mentioned accessibility, inadequate source of water, negative attitudes as some of the things affecting GNFS' operations.
He urged the public to make fire safety a priority, which according to him was a shared responsibility.
A representative from the Gha­na Institute of Architects, Mr Da­vid Parkins, commended personnel of the GNFS for ensuring that lives and properties were saved even at the peril of the own lives.