Aba with the Sauce emerges as a fresh voice in Amapiano, drops 'Medicine' under D Global Entertainment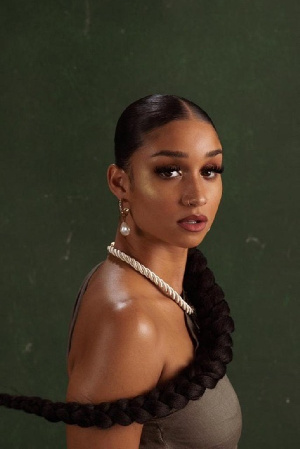 Ghanaian singer, Aba with the Sauce steps onto the scene with her new single, 'Medicine,' released under the esteemed D Global Entertainment label.
This marks a significant milestone for the budding artist, as she re-introduces herself to the world as a promising talent in the Amapiano genre.
Produced by the acclaimed South African beatmaker Yams, 'Medicine' is a compelling introduction to Aba's artistry. Aba's musical journey has been characterized by her determination to carve a niche for herself in an industry brimming with talent.
Having recently signed with D Global Entertainment, Aba (real name – Amanda Awuraba Aba Hall) is poised to make her mark after professionally doing music in the UK for the past years. This new single, 'Medicine,' is the first chapter in what promises to be an exciting musical journey.
With 'Medicine,' Aba takes a confident step into the limelight, signaling a new era in her burgeoning career. This single is significant not only for Aba herself but also for D Global Entertainment, who have recognized her potential as an artist worth watching.
The label's support and guidance provide a solid foundation for Aba to flourish in the dynamic world of music. Behind the enchanting sounds of 'Medicine' stands Yams, a revered figure in the South African music scene. Renowned for his skill in crafting infectious beats, Yams has played a crucial role in shaping the Amapiano genre. His collaboration with Aba underscores the perfect synergy between producer and artist, resulting in a track that showcases Aba's unique style while adhering to the infectious rhythms of Amapiano.
The title 'Medicine' encapsulates the song's potential to be a musical remedy, offering listeners an escape into a world of vibrant, invigorating sounds. Aba's emotive vocals, combined with Yams' masterful production, create an atmosphere that invites listeners to surrender to the music.
The track's infectious hooks and rhythmic pulse make it an instant standout, poised to capture the hearts of music enthusiasts around the world. Aba's foray into the music industry is marked by potential and promise.
'Medicine' is her opening statement, a declaration of intent that introduces her distinctive sound to the world. With the support of D Global Entertainment and the creative prowess of Yams, Aba is poised to make waves and etch her name in the annals of Amapiano history.
With 'Medicine,' Aba emerges as a fresh voice in the Amapiano genre, making a compelling case for herself as an artist to watch. As she embarks on this exciting journey with D Global Entertainment, the music world eagerly awaits the next chapters in Aba's musical odyssey. 'Medicine' is just the beginning, a taste of the sonic treasures that this rising star has in store for audiences worldwide.
Source: Yaw Boadu-Ayeboafoh