7 ways to prevent abnormal body changes over gadget usage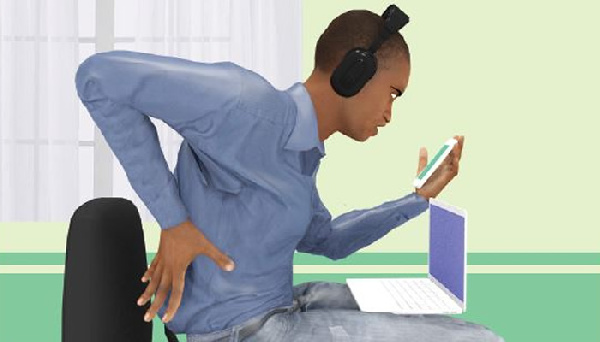 One could imagine the horrific surprise on the face of an online streamer, avid video gamer and social media influencer, Streamer Curtoss, when he shaved his head and discovered an unusual indentation on his head.
While posting a video he took while cutting his hair, Curtoss showed that his head had taken the shape of the headphones he wore for long hours.
After Curtoss' revelation on TikTok, other gamers came forward to reveal their new head shapes, which they called "gamer heads".
One of them stated that his head took the shape of the headphones he wore for 14 hours daily.
Prolonged use of earphones, earbuds or headphones at a high volume can cause hearing loss. The World Health Organisation estimates that globally, 1.1 billion young people are at risk of hearing loss.
Experts had predicted a change in the shape of the neck, eyes, fingers and back of persons who use gadgets for long periods.
Asides from gamer heads, tech neck is another deformity the body can experience. This happens when the neck is bent at an unnatural angle for a long time.
Experts believe these changes were caused by prolonged and wrong use of tech gadgets as well as the wrong posture adopted during usage.
They ascertained that bad ergonomics mostly accounted for the changes.
A professor of Physiotherapy at the University of Ibadan, Babatunde Adegoke, described ergonomics as the arrangement of the work area and the relationship between the individual and the work environment.
Therefore, the right usage when using gadgets will go a long way in maintaining proper health status.
Here are some tips on how to prevent unusual body changes when using certain gadgets:
Sit properly
A professor of physiotherapy at the Obafemi Awolowo University, Rufus Adedoyin, says the constant use of modern gadgets affects the health of its users. He adds that gadget use, most of the time, is done in a sitting position.
He stated, "Once you are not well seated, there is the likelihood of injury to the body. When you strain your neck while using your phone, your hands are lowered and the neck is bent. Once the neck is bent, the weight of the neck will strain the neck muscles. If that continues, the person will develop neck pain, which may be acute and later become chronic or permanent.
"When someone is not properly seated on an ergonomic chair, the person will develop back pain."
Flex your fingers at intervals
When typing or using mobile phones or computers for a long time, it is not unusual for the fingers to be bent or strained.
Adedoyin added, "There are some nerves that pass through the middle of the hand. Those nerves may be impeded by the structure of the hand, which becomes painful. This causes pain in the person's hands.
Stand up after 30 minutes
Many medical and fitness experts have advised against sitting for a long time. This, they said, could be injurious to the body. "Prolonged sitting is hazardous to our health," Adedoyin noted.
He added, "When you sit for more than two hours, it slows down blood circulation to the heart and other parts of the body, which is dangerous to your health. This causes a cardiovascular problem, resulting in heart problems.
"Once heart problem starts, it might not be cured again. The blood flow that is slowed down can cause Deep Venous Thrombosis. This is like a hard substance in the blood and when it moves in the body, it can block the artery that supplies blood to the heart and this can cause a heart attack. If it blocks the artery supplying blood to the brain, it will cause a stroke."
To prevent these adverse effects, the physiotherapist advised that after sitting for 30 minutes, people should stand up, stroll down and stretch to encourage proper blood flow and to relieve the strained organs of the pressure."
He added that the human structure was made to be active, therefore, when there is no mobility, there is danger.
Thus, combining movement and standing up would aid effective blood circulation. Also, long-distance drivers and travellers should ensure the car seat is high and long enough for their legs. The seat should also feel comfortable and free from gaps or pressure points.
Phones, computers at eye level
Adegoke says phones and computers should be placed at eye level. This, he said, would prevent looking down at the gadgets and in the process, bending the neck.
He advised people who play games to position the game boards or screen to fit their heights.
"The solution lies in being judicious in gadget use," Adegoke noted.
Remember to blink
Constant exposure to digital devices causes digital eye strain, findings have shown.
Individuals suffering from this usually experience dry eyes, redness of the eyes, headaches, blurred vision, shoulder and neck pain.
To prevent this, practice the 20-20-20 rule for healthy digital device usage. This means that after looking at the screen for 20 minutes, take a 20-second break and look at something 20 feet away.
Also, reduce the light above your seat or head when using the device to minimise screen glare.
It is advisable to increase the fonts or text size on your devices to ensure easy reading. It is also important to remember to blink. Also, using eye drops could help to reduce dry eyes.
Poor eyesight or refractive errors adds to eye strain. It is important to go for check-ups and ensure timely prescriptions.
Don't overuse
"Don't overuse gadgets; use them wisely," Adedoyin noted.
Adegoke said anything done in excess becomes a problem to the doer, while advising gadget users to "be reasonable about it."
Don't be addicted
The experts added that gadget addiction must be worked on to ensure that the body remained in a healthy and proper posture.
Speaking about the musculoskeletal consequences of the prolonged usage of gadgets in awkward postures, Adegoke said, "When people assume that posture over a long time, their posture becomes bad and bad posture will eventually cause them neck and back pain and a curved back."
WATCH Our latest Episode with Kennedy Agyapong in South Africa below:
Source: www.punchng.com