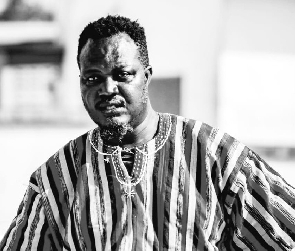 Music executive Enock Agyepong has expressed fury over some remarks Prophet Nigel Gaisie made about Fameye after the musician "failed to show gratitude" to the preacher for helping him climb the ladder of success.
Nigel is also on record to have said he rescued Fameye after a death prophecy but the musician's posture smacks of ingratitude.
On the occasion of Fameye's birthday, the preacher took to his Facebook page to express his disappointment.
He wrote: "I prayed for him to be big by the mercies of God, coming back to say thank you, Jesus, bless you prophet of God is even a problem. It's your birthday, I pray for you in that you will give God his due and appropriate people who as it were, helped you on your way of becoming who you are now; Fameye…PNG."
Fameye in an interview confirmed the claims of Nigel Gaisie and promised to do the needful.
"I want to use this medium and inform you that I haven't forgotten about you, I will come to see you at the right time. What you said has come to pass but I know that your prayers also averted the death you saw. There is no bad blood, God bless you," Fameye said.
In the last couple of days, a video clip of Nigel Gaisie emitting concerns about Fameye has been in circulation, courting controversy. According to him, he prophesied to Fameye about how God would lift him to become a seasoned artist like Shatta Wale and Stonebwoy and "gave him money for transport".
He added that the prophecy came with a condition that he should return and show gratitude. However, Fameye has failed to do so hence, "he [Fameye] will go down".
Reacting to the video clip in an epistle on Facebook, Enock Agyepong of Speech Production said it was repugnant for the preacher to blackmail the musician.
"God is not a Jujuman who asks for something after giving you something," Enock Agyepong wrote. "In fact, when God blesses you, He blesses you unconditionally so he should stop threatening Fameye's life with those unnecessary outbursts."
Below is his full post.
God is NOT a Jujuman
I've been following keenly how Nigel Gaisie has decided to seeming blackmail Fameye with God and I believe that behaviour must stop Now.
God is Not a Jujuman who ask for something after giving you something in fact when God blesses you he blesses you unconditionally so he should Stop threatening Fameye's life with those unnecessary outbursts.
The God I know is so powerful that if he wants something from you he can take it himself and does not need Gaisie as his debt collector.
When God wanted to take Saul he met him on the road to Damascus and even Changed his name from Saul to Paul and if that's the same God Gaisie is talking about then his power goes beyond what he Gaise is saying unless he is talking of some Jujuman and Not the all-knowing God.
Now even if Fameye owes God praises I believe he has done that in most of his songs including his recent one titled PRAISE so I don't know what Gaisie wants or is it the lorry fare he gave him that day?
And if Fameye gives Gaisie money how much will Gaisie give to God? Will he give God all or he will take his commission?
Then again if Fameye has to give God some money back, he can do that in any Church since the Omnipresent God I know is everywhere.
Fact is all God needs from us is our praise and Fameye has done that already.
How do you tell someone that his mother's side is stopping his destiny?
I mean how does Gaisie even think he is the only one to have Prophesied into Fameye's life or he wants all those who have done so to also start granting interviews?
I believe Gaise has potential underground musicians in his family and he can equally pour his oil on them and I know they'll pay him back without him going on all these interviews.
Fear and Panic does not only come with Chalatanic death prophesies but like he himself said in his interview that threatening people's future with blackmail can clearly be classified as Fear and Panic and I believe strongly that the Ghana Police Service lead by Big Man IGP Dampare must get into this case especially as he has warned them already.
Fameye must not be made to live in Fear by any form of threats from any self-styled prophet because Man is NOT God and God is Only ONE.
Source: www.ghanaweb.com