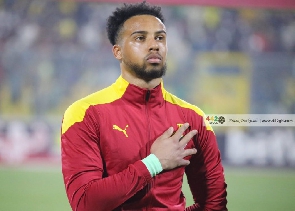 Black Stars goalkeeper, Jojo Wollacott is gradually recovering from his broken finger injury after a wire was removed from his finger.
Jojo Wollacott who got injured days before the start of the 2022 FIFA World Cup in Qatar has been on the sidelines for weeks as he hopes to recover from his injury.
Updating fans about the goalkeeper's recovery, Charlton Athletic head coach Dean Holden disclosed that a wire was removed from Wollacott's fingers and needs more time to heal.
"Jojo Wollacott has had the wire removed from his finger and that's gone well. The surgeon was pleased with that so we now need to make sure the finger heals. As soon as that's the case, we step him forward and move him back into training in the next couple of weeks" he said.
Jojo Wollacott has been the number-one shot-stopper for Charlton Athletic since joining the club in the Summer transfer window.
He is expected to be back in action soon after undergoing further surgical treatment on his broken finger.
Source: www.ghanaweb.com