Why Mahama, NDC are afraid of me – Bawumia explains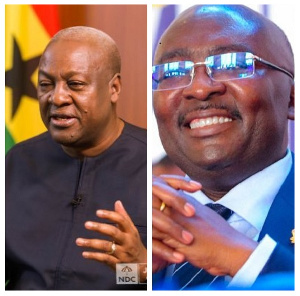 Vice President
Mahamudu Bawumia
 has hit the ground running, making his case to the delegates for the 
New Patriotic Party
 (NPP) to make him their candidate for the 2024 presidential elections.
Speaking to party members in the Ashanti Region, over the week, the vice president outlined the reasons he is the ideal candidate who can help the party win power for an unprecedented 3rd successive term – "Break the 8" – including the threat he poses to the major opposition party, the National Democratic Congress (NDC).
He said that the NDC is having nightmares about him because they know that if he becomes the candidate of the NPP, their campaign would be dead on arrival.
He said that the campaign message of the NDC since the inception of the 4th Republic is that the NPP does not like Muslims and Northerners but if he is made the flagbearer of the party, this message would be illogical.
"If you look at all the 10 people who would be competing for the NPP flagbearership position, I'm the person the NDC fears most. They are not talking about the 9 other candidates; in the morning they talk about Bawumia; in the afternoon, Bawumia; in the evening, Bawumia; in their dreams; Bawumia.
"Why are they so afraid of me? It is because I'm the only person who poses a threat to them in their three strongholds? – the Northern Region, the Volta Region and the Zongo communities… they know I would beat them in the Northern part of Ghana. The Zongo communities have also promised to vote for me … so their campaign would be dead on arrival.
"The campaign of the NDC since 1992 has been based on tribalism and religion. And so, if the NPP chooses Dr Bawumia as its flagbearer their campaign would fall underwater," he said.
Watch Dr Bawumia's remarks in the video below:
Source: www.ghanaweb.com