Watch the heartbreaking moment a family exhumes a buried corpse over chieftaincy issue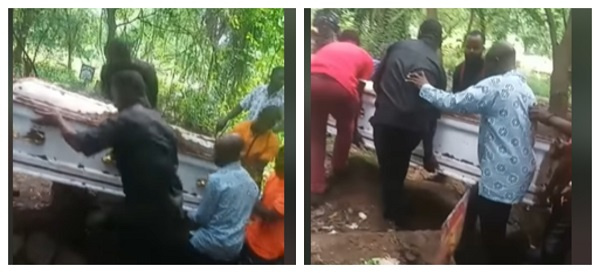 In a shocking incident captured on video and shared by Hello FM on June 7, 2023, a family was compelled to exhume a deceased body four hours after burial due to concerns raised by the Ngleshie Amanfrom Traditional authorities.
According to Hello FM's report, the family, originally from Gomoa Nyanyano, had clandestinely buried their deceased loved one at the Ngleshie Amanfrom cemetery without following the necessary traditional rites, prompting the intervention of the local authorities.
The report said that the family was ordered by the Ngleshie Amanfrom Traditional authorities to exhume the body following the discovery that the burial had taken place without the knowledge and consent of the chiefs and elders in the area.
The authorities expressed their concerns over the family's failure to perform the required traditional rites associated with burials in the community.
In response to the traditional authorities' directives, the family cooperated and proceeded to exhume the body, returning it to the mortuary for preservation and will subsequently appear before the Ngleshie Amanfrom Authorities to address the situation and perform the essential traditional rites associated with the burial.
Hello FM, the source of the video and initial report, conveyed the details of the incident, stating,
"Traditional Authorities in Ngleshie Amanfrom have ordered a family to exhume their corpse buried without the consent of chiefs and elders of the area.
"According to information, the family reside in Gomoa Nyanyano but sneaked to bury their deceased corpse at Ngleshie Amanfrom cemetery without performing traditional rites.
"The family exhumed the corpse and returned it to the mortuary for preservation and will appear before the Ngleshie Amanfrom Authorities to perform the traditional rites."
Source: www.ghanaweb.com