Watch the 'chilling' report of a Nigerian undercover journalist at Agradaa's church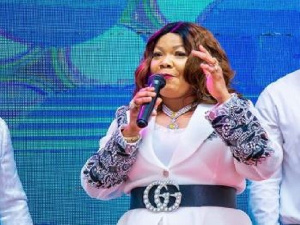 A Nigerian atheist and content creator, Gbenga Adewoyin has published an undercover video revealing some happenings at the church of former fetish priestess and founder of Heaven Way Gospel International Church, Evangelist Patricia Oduro Koranteng popularly known as Nana Agradaa.
With a strong record in "exposing" religious myths and the perpetrators of religious fraud, Adewoyin's first impression of Agradaa's church was being in the presence of a cult rather than a church.
"This is just a plain cult as it stands right now. People are not allowed; you are not allowed to take pictures in her church. You are not allowed to actually record any video, you can't even take a picture of yourself.
"I got there and I was taking a picture, I wasn't even doing any kind of secret thing, I was just taking a picture of the hall and they just took my phone. And I was like wow, f**k. 'why are you taking pictures, why are you taking pictures, there are no pictures' and this is a church for Christ sake," he stated while showing a bold notice on a pillar in the auditorium stating "no pictures allowed."
In his attempt to have a personal encounter with Agradaa, a junior pastor laid out the requirements including the need to purchase some spiritual items "oil" and a mandatory payment of 50 Ghana cedis.
"We have protection oil, oil that will protect you from evil things," the junior pastor said.
"I came to see her personally," the undercover investigator insisted.
In response, the junior pastor said, "Yeah, you will pay GHC50 for a card and GHC20 for oil."
After paying the stated amount and joining a queue with other persons who had all parted with similar amounts, Adewoyin finally got to sit across Agradaa in her office.
Agradaa who has a strong presence on social media was mostly concentrated on her phone while she listened to her guest through his junior pastor who served as an interpreter.
"I have an issue, I was recommended to come here. It is a sexual issue… I have this incredible issue, on the minimum I have sex with about three girls in a day. I have someone actually waiting for me at home right now," he narrated his made-up story to which the junior pastor retorted saying "so what do you want Mama to do for you?"
Adewoyin responded saying he had come to find out what the problem was with him and a further question as to whether his sexual encounters included spiritual ones to which he responded in the affirmative.
After being told the mission of her guest, Agradaa's immediate response was a demand of an amount of GHC200, so that his problem will be worked on.
Asked if he was going to find out what exactly was causing his sexual problems, the evangelist responded with "unless you bring the money, we will give you the direction and see what is wrong with you."
With no other money left on him, he was asked to bring the money at a later date.
This time in a voice-only recording, the conversation continued in the office of the evangelist.
After finally paying the GHC200, he was made to understand that the amount was only for his problem to attain the listening of the church leader and that he now needed to commit another money towards the spiritual direction/solution to his problem including purchasing some items.
The items as listed by Agradaa were alata soap, a rubber bucket and an oil which is supposedly only sold to a spiritual person.
"There is an oil you should buy, when you go you are not a spiritual person, so they won't sell it to you unless you give us money then I will send them to go and buy," she stated.
She mentioned the names of the oils as Mialingle Oil and Camo Oil adding that it will take seven bottles each with both pegged at a unit price of GHC100 and GHC200 respectively bringing the total amount for the oil to GHC2,100.
While a Google search showed the Camo Oil to be a baby oil product, there was no result for Mialingle.
"Then we asked people, what does this Mianlingia Oil and Camo Oi actually mean? And people that were familiar with that thing actually told me that she was making things up. Because there was no evidence of this oil, I asked Ghanaians." Adewoyin stated.
Unconvinced by her demands, the undercover investigator said he felt the need not to give the requested amount but was barraged with Agradaa's persistence to bring "whatever he has for the work to be started."
The church leader flatly refused a request by her guest to make the payment through a wire transfer.
"Not transfer, we are using it to buy the things. You can't transfer it to anybody's account. So if you have small one, you bring it. I will add this thing here and start…" she said.
The meeting ended with an agreement for Adewoyin to return on Sunday with the money.
You can watch the full investigation below:
WATCH Our latest Episode with Kennedy Agyapong in South Africa below:
Source: www.ghanaweb.com