WATCH: Showboy released from US prison, deported back to Ghana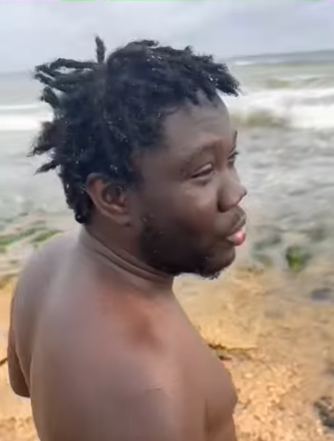 Popular Ghanaian musician cum socialite, Sam Safo popularly known as Showboy, has been deported back to Ghana after serving six years in jail for stabbing Junior US.
Showboy was sentenced to six years in prison in March 2019 for stabbing the US-based Ghanaian musician during a tussle.
Junior survived the stabbing but was later killed in a robbery attack in 2021 and at the time of his death, many people accused Showboy's 'men' of carrying out the crime.
However, a few years down the lane, Showboy has been released from prison, and in a recent video shared on social media, he has been captured on the shores of Ghana.
Announcing his return on Instagram, the former AMG group co-founder shared a video of himself at the beach embarking on a ritual cleanse.
"I am back to pay homage to all the gods and my ancestors. I am back." He spoke.
In the caption that accompanied his post, Showboy who disclosed how his mental health has since been disoriented by the entire encounter thanked everyone who stood by him.
"Thanks to Allah/God and our ancestors for everything!!! Shouts to all my dawgs /Families that held me down and never turned their back on me…shouts to all that tolerated my depression and sorry to all I offended !!! back for everything !! FINALLY FREE !!!" he retorted.
How Showboy accused Criss Waddle of setting him up
Even though Showboy was in detention, he was quite active on social media, sharing details of his life and events leading to his incarceration.
In one of his posts last year, he accused Criss Waddle, founder of AMG Record label, which he is said to be co-founder for setting him up.
"Criss Waddle sent junior us to my house (apartment) … they set me up…my life hasnt been the same since then. July 3, 2016. I never forget this day. U can read the statement and see the lies they told police, came to court and denied everything and said they scared of me".
"Told court am a Gunsta .. prosecutor told me I got a Huge Ego and said I call the shot .. I was profiled .. if not Criss Waddle sending Junior to me to come pay me money he Criss Waddle owed …all this never was going to happen .. Junior us was never my friend. That was Criss Waddle friend that hated on me out of jealousy .. I was set up by Criss Waddle and his friends. .thats the facts … still ain't got no visit from Criss Waddle till today. .. haven't seen him in 5yrs(sic)," he wrote at the time.
View this post on Instagram
Regrets
Showboy shared the particular video in which he was captured stabbing Junior US, in a bid to advise people on controlling their temper.
He said if he could turn back the hands of time, he would've simply walked away during their argument and not resort to violence.
"6 yrs ago , Criss Waddle sent Junior US to my apartment … 6yrs ago I lost my freedom and independence …. 6yrs ago I lost it all defending Amg and Criss Waddle …. I wish I could reverse this moment and just walk away after he attacked me inside my apartment …
"I post this to advice the new youth. . violence is not the way out … 6yrs ago on the 4th of July 2016 .. ..I lost my soul ..being fighting this case all my life … Nothing to prove if u know who you are and know your worth .. I pray I have another chance soon to chase my dream … .stay away from violence and stay positive if u have your freedom…" he established.
Source: www.ghanaweb.com