Watch how referee was chased during a division-two game in Mampong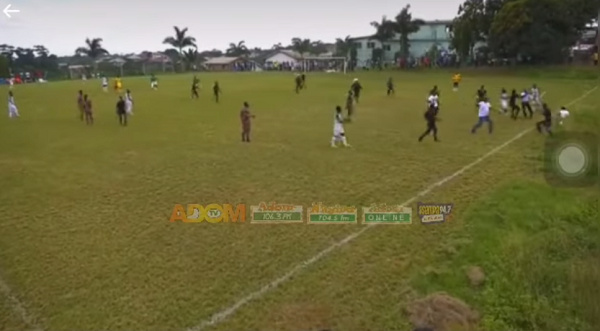 Despite the numerous calls to end the act of hooliganism, the message seems not to sink well to fans and footballers in Ghana and to extension, Africa.
Centre-referee Kadri Mohammed was chased off the field when he was officiating a division-two middle-league game between Kwaebibirem United FC and Victory Now FA at the Mampong Town Park on Sunday, June 12.
In the video, Kadri and his two assistants were given a hot chase by angered fans and footballers who chose to use the violent way to address their grievances.
However, it is unclear what caused the fans to unleash their anger on the referee and his assistants.
The Eastern Region Football Association condemned the act, adding that all referees are doing well after receiving treatments at the Tetteh Quarshie Memorial Hospital.
They assured that with the footage circulating on social media, the culprits will be brought to book and have also banned Kwaebibirem from using the Mampong Town Park as home venue for the remaining matches of the Division Two Middle League.
Source: www.ghanaweb.com