Watch how a protestor was arrested while granting interview at #OccupyJulorbiHouse demo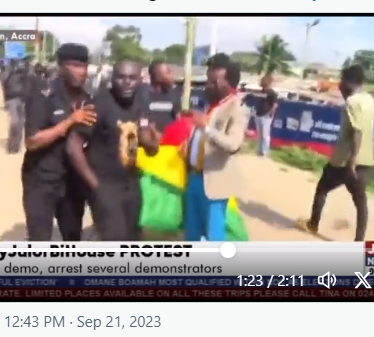 A Pan-Africanist who participated in the #OccupyJulorbiHouse demonstration was taken into custody by the Ghana Police Service while giving a live interview on national TV.
The protestor, who identified himself only as 'Safani,' was conducting an interview with some members of the media at the 37 Lorry Station in Accra when police officers abruptly interrupted the interview and detained him without providing any formal explanation.
The arrest was captured in a video that has since circulated on social media.
Safani was placed on a bus along with other protestors who had been apprehended earlier.
These events unfolded as the #OccupyJulorbiHouse protest, organized by Democracy Hub, faced a significant setback due to the arrests.
These incidents followed the protestors' refusal to comply with a police injunction issued just one day before the scheduled demonstration.
Democracy Hub emphasized that they had not received formal notification of the court order, which prompted them to proceed with their peaceful march.
The arrested protestors have been transported to the Greater Accra Region Police Headquarters near Tudu.
Watch video below
Source: www.ghanaweb.com