Watch Harry Maguire's own goal that has resurrected Isaac Adongo's 'famous' video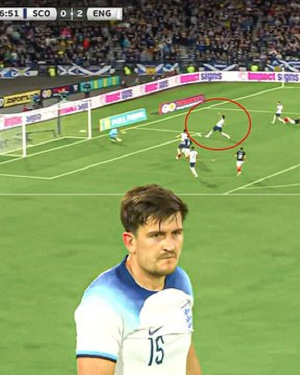 The video of the Member of Parliament for Bolgatanga Central, Isaac Adongo mocking England defender, Harry Maguire has resurfaced on social media platforms after the defender scored an own goal in England's friendly match against Scotland on Tuesday, September 12, 2023.
With two goals in the opening thirty-five minutes, England looked to be cruising to victory until Maguire who was introduced in the second half mistakenly directed home a low cross to give the Scottish a lifeline in the 67th minute.
Harry Kane however killed off the game with a goal in the 81st minute which was assisted by Real Madrid poster boy Jude Bellingham.
Harry Maguire once again came under the spotlight as fans mocked him for yet another poor performance for the Three Lions.
As the trolls intensify, Isaac Adongo's infamous video has popped up as an instrument of troll for the Manchester United centre-back.
It will be recalled that in December 2022, Isaac Adongo drew an analogy during which he likened Vice President Dr Mahamudu Bawumia's management of the Ghanaian economy to Maguire's display for Manchester United.
Adongo's speech on the floor of Parliament gained the attention of the international media after he ridiculed Maguire and compared his performance to Dr Bawumia.
"Harry Maguire, he's a defender. He was tackling everybody and throwing his body everywhere. He was seen as the best defender in the world. Manchester United went and bought him," the MP said.
"He became the biggest threat at the centre of the Manchester United defence, tackling Manchester players and giving assists to opponents.
"Mr. Speaker, you remember in this country we also have an economic Maguire. We're clapping saying this man is the best in managing foreign terms. Mr Speaker why we gave this Maguire the opportunity to be at the centre of our defence? He became the rest of our own goals. Our economic Maguire is taking control of the fundamentals of our economy and destroying all of them."
Watch the goal below
Harry Maguire scored an own goal against Scotland ????????????????????????????

England vs Scotland ended in a 3-1 victory for the English ✅ pic.twitter.com/OJK0X9LkCE

— Forberge (@forbergenews) September 13, 2023
When Harry Maguire was discussed in Nigerian Parliament for scoring own goals!

Really feel sorry for him and snapdragon now!#SCOENG pic.twitter.com/w7xJVLFlfV

— Vishal Verma (@VishalVerma_9) September 12, 2023
Time to Bring back this Harry Maguire video of Ghana Parliament ????????????

If if the opposition doesn't score Harry Maguire will score for them????

— Tosin Taylor???????? (@Itstosintaylor) September 12, 2023
Respected by opponents, feared by teammates.

Lord Harry Maguire pic.twitter.com/hfBF3sqUon

— Out Of Context® (@PeteroPitaa) September 13, 2023
The same way you'll explain how Harry Maguire is the most expensive defender in the premier league history https://t.co/rEp55HIbZw

— WelBeast (@WelBeast) September 12, 2023
Source: www.ghanaweb.com