Watch funny incident in Uganda league where referee used TV set as VAR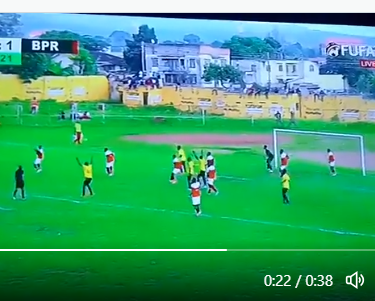 A Ugandan referee Muzamir Waiswa has been trending on social media after using a television replay to cancel a contentious penalty in the betPawa Big League match between Kataka and Blacks Power on Sunday, October 1 in Mbale.
Waiswa Muzamiru in the 86th minute awarded a penalty kick for Kataka and with no Video Assistant Referee (VAR), Muzamiru, who seemed overwhelmed resorted to the Television van to cross check the penalty he awarded against Blacks Power.
The players surrounded the refEREE violently protesting the decision after one of their players was adjudged to have handled the ball in the penalty area.
However, minutes later, he overturned the decision after checking it wasn't a handball as the game ended 2-1 in favor of Kataka FC.
The action has raised concerns on when the VAR will be introduced in Africa in their domestic leagues to aid referees make the right decisions.
The VAR was introduced officially in April 2017 and was first used in a match between Sydney FC and Wellington Phoenix in the Australia A-League.
The technology is used to review and make decisions on four key incidents during the match, including a goal, a red card, a penalty decision and a mistaken identity when issuing a card.
Watch the video below:
Source: www.ghanaweb.com