Watch as scores of Ghanaians queue at travel agencies, embassies daily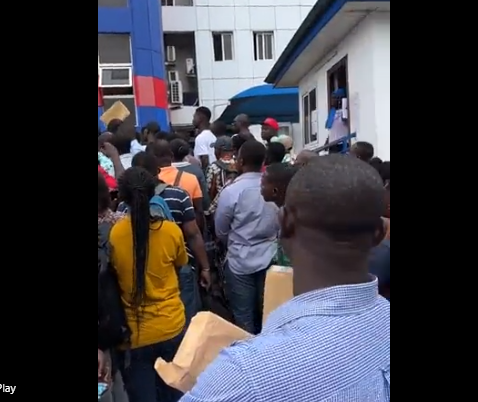 A video of many Ghanaians queued at a travel and tours agency in Accra has once again rebirthed the intensity of emigration by Ghanaians in recent times.
In the video, the people are seen holding brown envelopes while waiting in queues for their turn.
Travel and tour agencies help with documentation and processes for persons who want to travel to other countries for various purposes.
The issue of Ghanaians going beyond their means to leave the country is becoming a source of worry for many.
They have attributed the increased desire for migration to the current state of the economy.
Daily, scores of young men and women are spotted at the various embassies to apply for visas and other travel documentation to facilitate their travels.
In a recent viral video, crowds were seen at the US and Canadian embassies waiting for their turn to be called for their interviews.
This generated a lot of reactions and concerns over the fact that the country may experience a brain drain.
Brain drain is when a country loses its active work population to migration and this leads to the country becoming short of labour.
But Ghana's unemployment issues have been core among the reasons citizens have stated for leaving the country. They are of the belief that leaving the country will help them find better job opportunities.
Inflation and other economic indicators have increased the cost of living among Ghanaians making it hard for young people to build wealth.
There have been constant cries to the government to be proactive and fix the ailing economy.
Watch the video below:
Source: www.ghanaweb.com