Watch as immigration officer disciplines alleged 'serial killer' caught with a school girl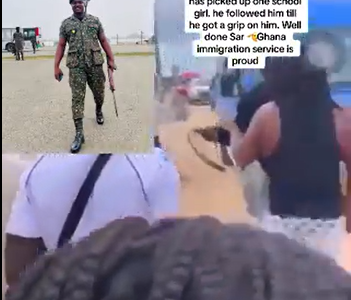 An unidentified officer of the Ghana Immigration Service is being celebrated online for a heroic feat.
In videos that have been shared on Twitter, the officer is seen angrily dragging a man suspected to be a serial killer – a man in dreadlocks, and wearing a black tank top, in the middle of an unidentified road.
With a few bystanders around even as a slow traffic builds up on the road, the officer of the GIS, with a whip in hand, orders out some words while intermittently swiping the whip at the dreadlocked man, who he has gripped on the waist.
At a point, the officer is heard telling the suspect to lie on the floor before he kicks him on his own to get him to the ground.
As the video progresses, it appears the suspected serial killer had taken a school girl and some of the bystanders, just as the caption of the video says, claimed he was on his way to kill this school girl.
"I learnt he got the intel that the rasta guy is a kinda a serial killer and has picked up one school girl. He followed him till he got a grip on him.
"Well done Sar. Ghana Immigration Service is proud," a text caption on the video shared by @offficiallordy said, while the main caption for the video said, "He was going to kill the kid and the immigration officer caught him! Some girls and car hmm!"
Some of the bystanders were able to get the school girl to disembark from the saloon car, even as some of them questioned her on where she was going to, and why she decided to just sit in any stranger's car.
See the video below: