Watch as fans fire gunshots during a second-division game in South Africa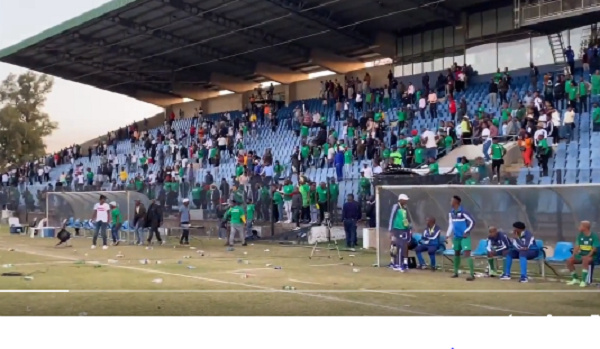 The act of hooliganism continues to take over football here in Africa despite the numerous sensitization and education by CAF and FIFA.
The ABC Motsepe National Playoffs semi-final game between Orbit College and Umsinga United saw some ugly scenes at the Harry Gwala Stadium on Friday, June 9.
The game ended 1-0 in favor of Orbit College who will now face Upington City in the 2023 ABC Motsepe National Playoffs Final on Sunday, 11 June 2023 at the Harry Gwala Stadium.
In the video spotted on Twitter, fans of Usimga United broke the fence wall, destroyed the seats and threw bottles on the field after the game, expressing their disappointment following their side's defeat.
However, gunshots were also heard from the stands by fans.
Source: www.ghanaweb.com