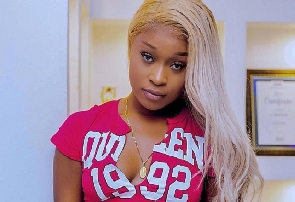 • Efia Odo says she does not hate Sista Afia
• The actress asserts that the singer is not relevant
• Sista Afia and Efia Odo clashed on live TV
Sista Afia's long-standing feud with Efia Odo became a subject for discussion on UTV's United Showbiz, Saturday, and an attempt by the host to unravel the cause led to the actress describing the singer as irrelevant and fake.
"I don't have any problem with Sista Afia. I don't hate her; I don't care about her. She's not relevant enough to me to care about. I don't care about her to like her or to hate her. She's irrelevant", said Efia Odo.
The two have been locking horns on social media for years. The feud was recently rekindled after Sista Afia commented on Efia Odo's post which sought to enquire why celebrities were flaunting iPhone 13 Pro Max they had acquired as though the product were such an accomplishment to many Ghanaians.
"Mtcheeeew", Sista Afia's criticism of Efia Odo's post read. This comment infuriated the actress as she used unprintable words on the singer.
Recounting the genesis of their feud, the actress and video vixen traced the root to an incident that occurred almost a decade ago. Efia Odo said she once made a comment about the appearance of Sista Afia which bruised the singer's ego. She recalled posting Sista Afia and rapper Eno Barony on social media and expressing her reservations about what they wore.
"About 8 years ago when I was in America, I had not even been to Ghana; I saw a picture of her and Eno and they had these boots on but it was a see-through boot so you could see the sweat. I didn't like the outfit and I was like 'don't these people have a stylist?' I put it on Snapchat, I didn't know who she was really so I think her friends or followers sent the snap to her. I guess she got upset with what I said" Efia Odo narrated.
That was quashed a few months ago as they apologized to each other. There was however a reignition when the two met on set.
"We were shooting a reality show and she came there acting like we are friends. And I said we don't like each other so why are you coming to me acting like we are friends. Then she said the industry is about fake beef and I said I'm not fake; she shouldn't talk about me… She's fake", Efia Odo said.
According to her, she would not take her followers for granted and plan a beef with colleagues; neither would she pretend to be a friend to someone, emphasizing that these are the reasons she tagged Sista Afia as fake.
Considering that they are not friends, Efia Odo stated that she did not expect Sista Afia to comment on her recent post about why celebrities were flaunting iPhone 13 Pro Max.
Asked if she wanted to have a cordial relationship with Sista Afia, Efia Odo reiterated: "I don't care about her, she's not relevant to me."
Meanwhile, Sista Afia has refuted the claim that she suggested they plan a beef. She also mentioned that Efia Odo knew her at the time she [Efia Odo] posted her picture with Eno Barony. According to her, she was told that Efia Odo "didn't like me because I was close to Shatta Wale".
The two celebrities eventually apologized to each other.
Source: www.ghanaweb.com