US-based Ghanaian of pleads guilty to illegally exporting firearms to Ghana from the US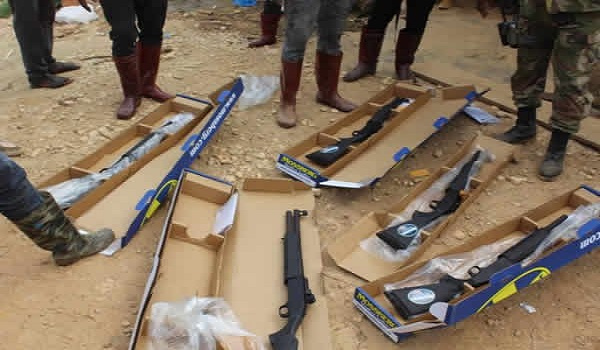 A Ghanaian based in Columbia, Maryland, Eric Nana Kofi Ampong Coker, has pleaded guilty to illegally exporting firearms to Ghana from the United States of America.
According to the United State Attorney's Office of the District of Maryland, Ampong Coker, on Thursday, June 8, 2023, confessed to exporting firearms to Ghana without the required license or written approval to export the weapons.
The district attorney's office indicated that Ampong Coker, since 2017, has purchased at least 81 firearms from three separate Maryland Federal Firearms Licensees ("FFLs")
It added that in 2019 the accused person received a Regulated Firearms Collector status through the Maryland State Police, which waived the restriction on the number of firearms he could purchase during a 30-day period.
"In May 2021, federal agents surveilled Ampong Coker as he retrieved firearms purchased from one of the FFLs and was then observed in a variety of locations, including a business that packaged and shipped items from the Port of Baltimore. A shipping vehicle was subsequently seen departing that location on May 27, 2021. On May 29, 2021, Ampong Coker was searched as he was departing the United States from Detroit, Michigan, bound for Ghana. Among other items seized in his luggage were foam cutouts used for packaging and securing firearms in gun cases.
"In early June 2021, HSI and CBP agents identified a shipping container scheduled to depart the Port of Baltimore for Tema, Ghana, on June 14, 2021. Included in the listed contents of the container was a 2018 Toyota Corolla registered to Ampong Coker.
"… On June 8, 2021, HSI, ATF, CBP and other agents searched the contents of the shipping container. Within the trunk of the 2018 Toyota Corolla, which had the Defendant's name on cardboard on top of the vehicle, the agents found a grey suitcase. Secreted in the lining of the suitcase, the agents found five 9mm handguns previously purchased by Ampong Coker," parts of a release issued by the state attorney's office read.
U.S. Attorney Erek L. Barron indicated that Ampong Coker faces a maximum sentence of 20 years in federal prison for illegally exporting firearms when he faces the court on September 6, 2023.
Read the full statement issued by the US attorney's office below:
Read the full story originally published on June 8, 2023 by www.justice.gov
Source: www.ghanaweb.com