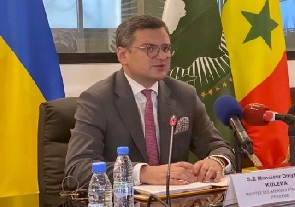 Dmytro Kuleba, the Ukrainian Foreign Minister announced on Twitter that he was cutting short his tour of Africa after Russian missiles hit areas of the capital, Kyiv.
Kuleba had visited three African countries at the time he announced the decision to return home to join the fight against Russian aggression.
"I am in constant contact with partners since early morning today to coordinate a resolute response to Russians attacks. I am also interrupting my Africa tour and heading back to Ukraine immediately," his tweet of October 10, 2022 read.
Commenting on the attacks for which he was returning home, he tweeted: "Multiple Russian missile strikes across Ukraine. Putin's only tactic is terror on peaceful Ukrainian cities, but he will not break Ukraine down.
"This is also his response to all appeasers who want to talk with him about peace: Putin is a terrorist who talks with missiles."
CLICK HERE TO DOWNLOAD PRESS RADIO MOBILE APP
Kuleba had visited Senegal, Ivory Coast and Ghana before interrupting his tour, meant to ramp up support for Ukraine and counter Russian diplomatic inroads ion the continent.
Source: www.ghanaweb.com