Two suspected robbers arrested for allegedly robbing a stone quarry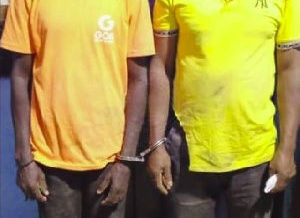 The Central East Regional Police Command has apprehended two accused armed robbers in connection with a robbery attack at a stone quarry.
The two suspects, who are thought to be part of a group of six, allegedly raided the Pilot Stone Quarry site in Gomoa Ojobi and stole GHC200,000.00 and a laptop from the company.
They have also been accused of stealing mobile phones from personnel and food sellers at the site while there were gunshots and significant cruelty directed at several Chinese nationals.
Following a distress call to the Central East Regional Command, the police arrested them at a barrier installed at Buduburam on the Winneba-Kasoa section.
A laptop, several mobile phones, and the specified amount were discovered in the vehicle transporting the two suspects.
WATCH Our latest Episode with Kennedy Agyapong in South Africa below:
Source: rainbowradioonline.com