Tragic accident claims over 30 lives on Peki Eastern Corridor road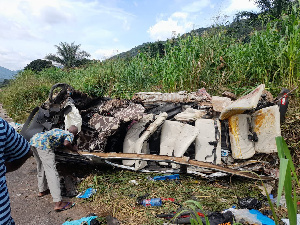 A devastating accident yesterday, September 27, 2023, along the Peki stretch of the eastern corridor road has led to the loss of more than 30 lives.
According to a Twitter post shared by @sikaofficial, this accident occurred when a bus, swerving to evade numerous treacherous potholes on the severely deteriorated road, collided with a commercial van.
According to eyewitnesses at the scene, the bus was navigating the challenging road when the driver swerved to avoid a particularly menacing pothole.
In the process, the bus collided head-on with an oncoming commercial van, resulting in this catastrophic loss of life.
Community members who came to the scene after the accident could be heard complaining about the speed of the drivers who were involved in the crash.
The Eastern Corridor road has been a subject of persistent concern due to its deteriorating condition, which poses significant risks to motorists and commuters.
Source: www.ghanaweb.com