Traces of blood, Ghana Must Go bag – What murdered woman's sister found in houseboy's room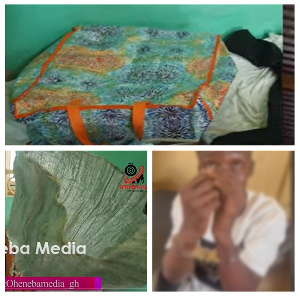 Amidst investigation into the tragic death of a businesswoman in Sokoban in Kumasi, a search was conducted by the victim's sister, in the room of the houseboy accused of having killed his madam.
Lawrencia Konto, the sister of the late Princess Efia Ahenkan, in a search of the house in a bid to uncover clues about the tragic incident, discovered some items in the room of john Allister, currently in police grips.
Among other things she found traces of blood, a Ghana Must Go bag that appeared to have been cut open, and a rubber bag, all of which raised suspicions for her.
In an interview with Oheneba Media, Lawrencia Konto expressed her bewilderment and revealed that her late sister had been nothing but caring and generous towards the houseboy, making it difficult for her to comprehend why he would resort to such a violent act.
Lawrencia also disclosed that a large part of the house had to be cleaned to remove traces of blood following the murder.
"I don't believe he was hungry or something because my sister would never do that," Konto emphasized.
She corroborated reports that the murder occurred in the garage, which the alleged perpetrator had subsequently locked.
"He killed her at the garage and locked it, so, when the police came they had to break through to get the body, but where he killed her I cannot tell," she added.
The murder happened on Friday, September 8, 2023.
The prime suspect, John Allister, who was employed as a house help by the victim's family and an accomplice have since been arrested.
Source: www.ghanaweb.com