Three dead, several injured in accident on Kumasi-Volta Region Road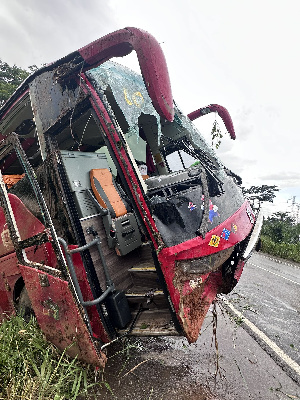 Three persons died while several others sustained injuries in an accident that occurred near Sekyere Kankan on the Kumasi to Volta Region.
Reporting from the scene of the incident, blogger Kobby Kyei in a Twitter post said a Zhong Tong Bus with registration number GW 5546-23 veered into a nearby bush when the driver sought to give way to an overtaking vehicle.
"In the early hours of today, a tragic accident occurred near Sekyere Kankan involving a Zhong Tong Bus with registration number GW 5546-23, carrying passengers from Kumasi to the Volta region. According to reports gathered from the police at the scene and local residents, the accident was caused when the driver attempted to give way to an overtaking vehicle but unfortunately lost control, veering off the road and into the bushes.
"Regrettably, three individuals lost their lives in the incident, and numerous others sustained critical injuries. I would like to commend the Ghana Police and the ambulance service for their swift response in transporting the injured passengers to the hospital. Their efforts deserve appreciation recognition," he wrote.
In a subsequent post expressing frustration about the spate of accidents on the stretch and the need to address the issue, Kobby Kyei revealed that one of the deceased victims in the accident is a bride who married two weeks ago.
We continuously express our concerns as lives are tragically lost on this particular road. What measures can be taken to address this issue? Is it possible to clear the bushes along the sides of the road? Why haven't they cleared and widened the road yet? It's frustrating, to be… pic.twitter.com/GYZ6wHL4S5

— #GenerationalThinker (@KobbyKyei_) July 17, 2023
Source: www.ghanaweb.com