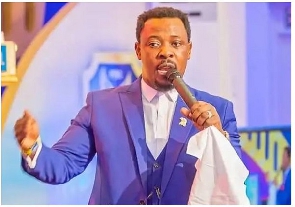 Founder and leader of the Prophetic Hill Chapel, Nigel Gaisie has revealed a plot to kill an unnamed former Arsenal star of Togolese nationality.
Gaisie who was prophesying to his congregation during December 31, 2022 watch night service, revealed that a plot to poison the player would take place in 2023.
Gaisie went on to give clues about how the player looks like but refused to mention his name.
"The Lord took me to the football team called Arsenal in the United Kingdom. I saw a Togolese, very tall and a little bit dark. He answers to a Nigerian name. If not for this prophecy, this year, he would've been poisoned. I know his name but I don't want to mention it. He is a Nigerian-Togolese.
"I'm speaking figuratively. He answers to a Nigerian name. The Lord said I should tell him as a prophet of God, that almost all the people around him (they) don't like him. The Lord said they took him to a village to kill him. He is not on my radar, in fact, football is not on my radar."
He further noted that God revealed the prophecy to him three days ago.
"Last three days I was before God and the Lord showed me. Those who are Arsenal fans, this guy, most of the time, you see him in Ghana. I see him in Ghana, he is very jovial. He is tall. I have a pastor friend called Adebayor. This pastor friend, yesterday I was with him. The Lord said I should tell this football player that they want to poison him."
Nigel Gaisie's prophecy about the unnamed Arsenal star was one of the many he shared with his congregation on New Year's eve.
Source: www.ghanaweb.com