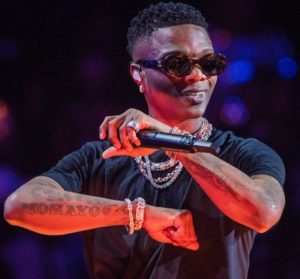 World-renowned Afrobeats superstar, Wizkid, has said that Africans need to move together in numbers rather than fight each other.
According to the 'Essence' hitmaker, "there is only one Africa."
Wizkid's comment comes after Shatta Wale threw jabs at Nigerian musicians during his Freedom Wave concert and subsequently on his Twitter page.
After Wizkid's performance at the just-ended Afrochella event, he seize a moment to preach peace and unity among all African nationals.
Charging his teeming fans at the EL Wak Sports Stadium, he said that "I have to show you the same love I show to my brothers or sisters. I want you to understand something here. There is one Africa. We move together in numbers."
He continued, "There is one love, one Africa. Whether in Ghana, Nigeria, or Kenya, we are all the same. "
Shatta Wale took to Twitter to reply to the Nigerians coming at him. "As for Nigerians, they think they can always say what they want to say. F**k your talks, ya'll who think I spoke the truth. I don't even remember you guys promoting Ghanaian artists in your country. Until you guys realize your artiste blow in Ghana to say thank you…
In another tweet, he said, "bring it on and your artists won't get that hype they get from Ghana." .. I can make that stop. Don't dare me. True, your artists come here for numbers before the rest of the world recognizes them. Appreciate Ghana supporting your artists and stopping this foolishness. "
Source : Starrfm.com.gh