The town in Ghana where rent is only GH¢40 a month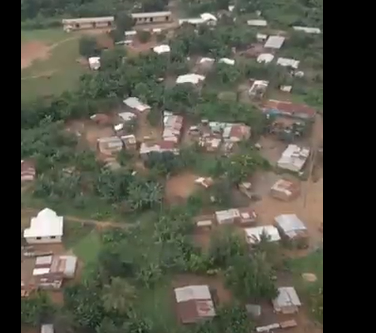 Rent has become very scarce and expensive over the years and in recent times, the situation is just escalated.
Despite being an essential need for all people, getting an average place to stay with relatively good environmental conditions doesn't come at a low cost nowadays.
And especially in places like Accra, people can pay as much as millions for rent whereas the least for an average house is within GH¢400 to about GH¢800 per a month for a single room chamber and hall and sometimes very rarely, a 2 bedroom which sometimes could go for GH¢1,000.
But in a remote village in the Eastern Region of Ghana, the situation is quite different, people pay as little as GH¢40 rent.
At Gojiase a suburb of the Suhum Municipality, residents pay this amount for a regular block-constructed building with basic amenities including a bathroom and a toilet.
Revealing this to Zionfelix in an interview, a teacher in the community; Owusu Ansah explained that he for example paid GH¢30 for the first few years and then had a slight increase from his landlord.
"The very year I came here, I paid GH¢30 cedis rent; that is 2 years ago and the man wanted to renew it this year; he wanted GH¢50 cedis but I gave him GH¢40 cedis. I pay per year, that is GH¢480 Ghana cedis per year.
"They are not thatched houses, it's a block house with ceilings. We have a bathroom and toilet; the KVIP type," he noted.
Speaking about other living conditions of persons in the Gojiase community, Owusu Ansah explained that the community mostly comprising of farmers, has two sources of water; a borehole and a stream.
He also revealed that residents mostly cook their own food in their homes and added that the main mode of transportation in the town is motorbikes because it is difficult to get vehicles.
"Everybody prepares their food in their own homes. Kenkey is GH¢1.50p, GH¢2. We use a community borehole and there's a stream also there.
"If you put yourself in their shoes, you can stay here. The mode of transportation here; Okada has taken over. From here to Suhum, Okada will take GH¢8 and car will take GH¢6. For cars, it is a problem, you can be at the station for 2 to 4 hours before the car gets full and the driver moves," Owusu Ansah added.
Here is the interview below:
Source: www.ghanaweb.com