The Road Not Taken: Why Andy Dosty wishes he listened to his mother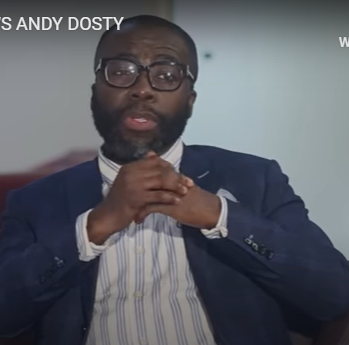 Andy Dosty had a juicy offer from Dr Kwaku Oteng of Angel Group of Companies, making him join Kumasi-based Angel FM, a radio station that belonged to the business mogul but chose materialism over what could be said as investment when he ignored his mother's counsel to buy a land and rather spent on a car.
Having left Despite Media to join Angel FM back in the day, the move, inspired by the offer Dr Kwaku Oteng made and Andy Dosty's resolve to exit Osei Kwame Despite's enterprise, made the then young radio presenter wealthy.
Without mincing words on The Delay Show monitored by GhanaWeb, Andy said: "Kwaku Oteng poached me. The deal was a good one. But I was childish because when I wanted to leave Despite Media, what Despite wanted to do was to give me times two of what Kwaku Oteng was offering me. However, I had already made up my mind… He even wanted to give me times three."
"It was a juicy offer. At the time, a young man could be easily swayed by lands… In fact, because he gave me lands, the first day I received a confirmation he's paid me, I called a car dealer to buy a car I had spoken to him about and I picked it up the very day."
As the conversation unfolded, Andy Dosty recalled his decision to prioritize materialism over potential investment, as advised by his mother. He suggested that his mother opposed his decision to buy another car, advising him to purchase a house and land.
"At that time, I was young. I had a car and I still wanted to buy a car," he opened up on his financial decisions, and his reflections on those decisions. "My mother spoke to me about it but I ignored her. She asked that I buy a house instead and buy a land as well but I refused using my decision to buy a certain big house as an excuse."
He continued: "There were two pieces of land; I bought her one and she asked me to buy the other one for myself but I ignored her."
The advice his mother gave echoed when he encountered a colleague in New York. The said individual, according to Andy Dosty, used not to have a good image as him (Andy) but had acquired houses.
"In our conversation, he told me he was heading to Ghana for a housewarming party," the popular disc jockey stated. "He said this was even his second house. He flew me down to Ghana to host the housewarming party for him. And I felt ashamed. I had money but wasted it on cars."
Meanwhile, Andy Dosty has recalled how he lost one of his cars to a musician. In the interview, he narrated that a musician expressed interest in buying the car but vanished into thin air after getting hold of the vehicle.
"He is called Kwesi Sellasie and he lived in Canada. To date, I haven't heard from him or set my eyes on him. I don't know his whereabouts. He took the car to Agona Nsaba and I never saw my car or received any money for payment," he told Delay.
Andy refuted suggestions that Kwesi Sellasie may have passed away, which could explain the lack of communication, stating, "Nothing has happened to him. He is still alive, though. One thing I am not good at is selling my properties. When you're not lucky with those things, you end up with the barest minimum."
Andy, now a successful broadcaster with three children, has built a five-bedroom house in Accra and owns other properties.
Source: www.ghanaweb.com