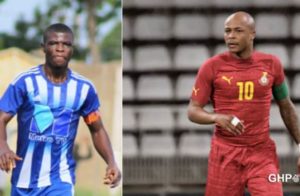 As the country's National football team the Black Stars prepare to take on Comoros in their last group games in the ongoing 2021 AFCON, some people have lashed out at captain Dede Ayew.
Former professional footballer Dan Quaye has attacked Dede Ayew over his behaviour during Ghana's match with Gabon last Friday.
According to the former Hearts of Oak player, the Black stars team is not the property of his family and his father.
His comment comes after the Al-Sadd player instead of passing the ball to his teammate Joseph Paintsil which could likely result in the second goal for the team but decided to go solo.
"What was Andre Ayew thinking when he could have passed the ball to Joseph Paintsil to score the second goal?", he quizzed.
"It was a clear goal-scoring opportunity for the Black Stars but Andre Ayew decided to keep the ball to himself. We must let Andre understand that the Black Stars is not for his father.
"This is a national team and there should be that oneness and unity among the players on the pitch but that is not what Andre Ayew is doing.
"He is always seeking the glory for himself and not the team. He always wants to grab the headlines which is bad for the team.
"He is selfish and his attitude is not helping the team. If I am playing with Andre Ayew, I would never enjoy playing with him because he is selfish."