The girl I cursed isn't dead; she's expected to be struck with illness first – Taxi Driver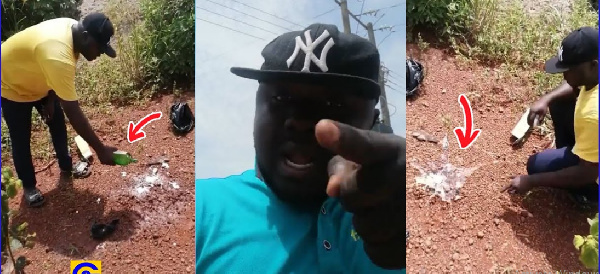 Nana Poku, a taxi driver who rained heavy curses on her estranged girlfriend has refuted reports that she has 'given up the ghost.'
Reports have emerged that the taxi driver's curses have claimed the life of the said lady, identified as Maame Yaa.
Earlier in a viral video, Nana Poku, was seen evoking a deity with a bottle of Schnapp and eggs to wipe out the said lady and her entire family.
Narrating the cause of his actions at that time, the taxi driver said the lady, who he lived with, cheated on her after providing for her and her family.
"I met Maame Yaa at a time she had a child, I looked after her and her entire family but after milking me dry and making me go bankrupt, she claims not to love me anymore. She claims I am out of her league. Her parents are telling me trash. I met Maame Yaa when she was selling boiled eggs. After putting me through all these, I want you to strike her and deal with her. Kill her mother and use Maame Yaa to clean your sword.
"I have given her mother money several times, but if today, they want to adopt a legal means of addressing this issue instead of begging me, let them die and fall off one after the other like ripe bananas on a tree," he stated while pouring the Schnapps and breaking the eggs.
However, reacting to recent rumours that his curses finally killed the lady, just as he wanted, Nana Poku in an interview with a blogger named Ohene David said,
"Maame Yaa isn't dead. If anyone says I have killed her then it is a lie. Moreover, nobody has asked me about this issue, you're the first person to call me for an interview. Just last Monday, Maame Yaa and her family even traveled to Nsoko for a funeral. I even met her sister at the Techiman station and she told me that they will be coming home for us to settle issues. Maame Yaa isn't dead.
"The type of curse I placed on her wouldn't speak instantly. It is meant to strike her down with sickness first to give ample time for her people to come and make amends if they want. I am very much abreast with tradition. I grew up in the palace and my grandmother is a queenmother," he added.
Nana Poku also alleged that the girl's family have since been trying everything possible to eliminate him, in order to create the impression that his curses had backfired.
"Her family was rather scheming to get rid of me so they'd tell people or create the impression that I have been caught up in my own curses. They tried and tried but it never worked out," he maintained.
Watch the video below:
Source: www.ghanaweb.com