The fact that I knelt before the Asantehemaa doesn't mean I am guilty – Prophet Azuka insists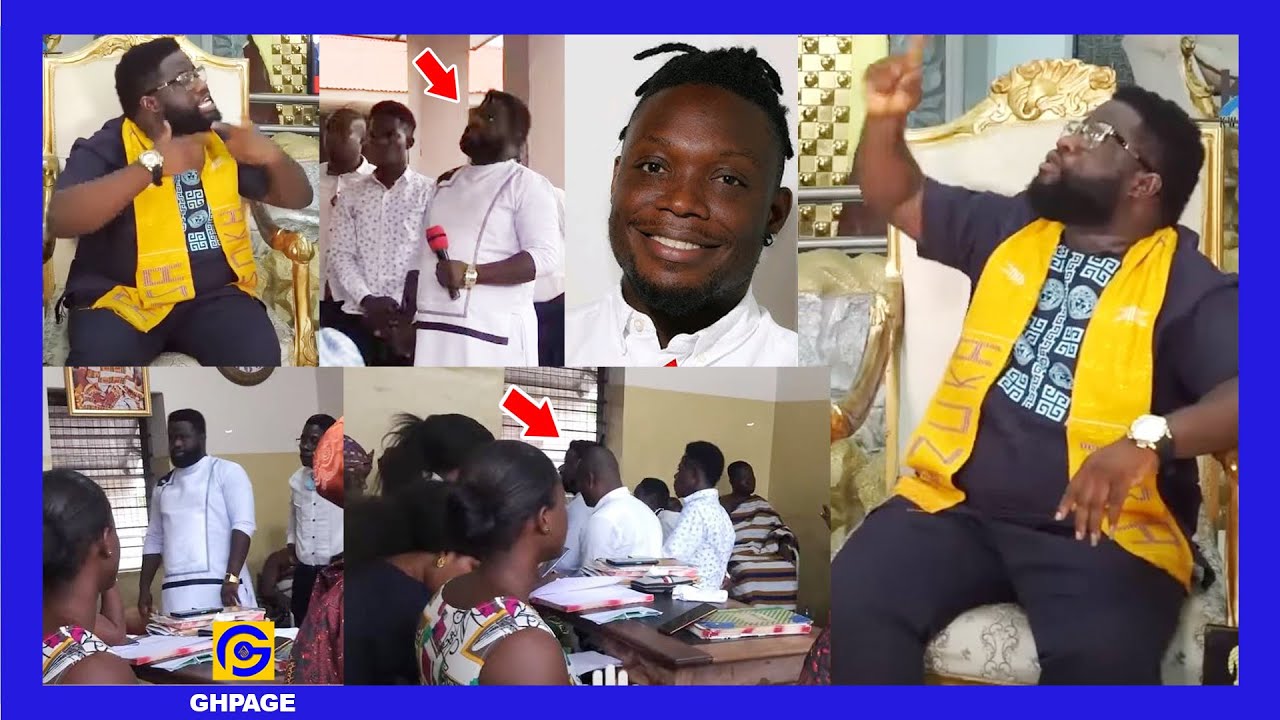 Prophet Azuka has dispelled claims that he wept profusely and knelt to apologize after being found guilty in his issue with Kofi Pages that was brought before the Asantehemaa.
Azuka who was said to have erred in the case, was said to have eventually knelt down to apologize to the Asantehemaa and chiefs together with his junior pastors.
This was projected in a couple of videos that made rounds on the internet and elicited reactions from netizens.
However, Prophet Azuka insists that his act of apologizing and kneeling was a normal gesture and requirement anytime one's issue is been trashed in the palace.
He said the fact that he knelt does not mean he was the guilty one.
"Watch the video very well. Those parading such lies should be careful. As part of the Asante culture, you are obliged to go on your knees at a point when your issue is being resolved. Even at a point, the boy's family knelt. It is part of customs, why should I cry? Have I lost something?
"I apologized for involving his family in the whole issue, I apologized for dragging his family into the curse. It not that I was at fault, I was only sanctioned because I dragged the family into it," he emphasized in an interview with GHPage.
Asked why he was summoned to the palace, Azuka said Kofi Pages' family were peeved that they were involved in the curse.
He also said, curses are not tolerated in the Ashanti kingdom, and just like him, anyone who indulges in such an act is usually dragged to the palace for questioning.
"They said I shouldn't have involved his family when they haven't done anything to me. They also said curses are not allowed in the Asante kingdom. I have learned a lot of things over there. The family said they didn't understand why I involved them and I think I agree with that. At first, I tried to counter that claim with the Bible but the kinsmen told me that we are in Asante Kingdom so we have to go by its rules," he added.
When asked if the curses he rained on Kofi Pages had been overturned, Azuka replied: "What I was called for was what has been resolved."
Background
The animosity between Kofi Pages and Prophet Azuka began a few weeks ago during a live TikTok session when Kofi Pages joined Azuka's live stream.
The exchange escalated quickly when Kofi Pages publicly accused Prophet Azuka of being a fake prophet and launched a barrage of insults, accusing him of deceiving unsuspecting Ghanaians.
In the aftermath of their live altercation, Prophet Azuka resorted to a late-night live stream, where he allegedly cursed Kofi Pages and his entire family, intensifying the feud.
Watch the video below:
Source: www.ghanaweb.com