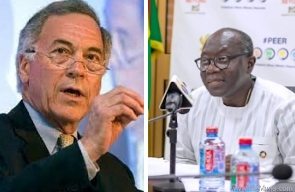 American economist, Prof. Steve Hanke has resumed his attacks on Minister of Finance Ken Ofori-Atta critiquing the Minister's resort to Biblical references to back his belief of an economic resurgence.
In a January 2, 2023 tweet in which Hanke posted a story by the Economist titled "Ghana has struck a preliminary IMF deal and halted debt payments," the economist quoted a Biblical reference the Minister made late last year.
"Ghana's Finance Minister Ofori-Atta justified defaulting on debt by quoting the Bible: "nothing will be lost, nothing will be missing."
"The Bible is a poor guide for macroeconomics. It's time for Ofori-Atta to stop bamboozling Ghanaians and get real," he emphasized.
The Biblical reference was used by Ofori-Atta when he announced a Domestic Debt Exchange programme, one of the key conditions that led to a government and International Monetary Fund (IMF) Staff-Level Agreement days later.
The government suffered backlash from labour especially over the plan to include pensions in the Exchange programme, which plan has been revoked with individual bondholders now impacted.
Ghana had a torrid 2022 amid an economic crisis that forced government to seek an International Monetary Fund facility at a time the cedi was rapidly depreciating, inflation was galloping and government was faced with multiple downgrades by rating agencies.
The government has serially blamed the crisis partly on the aftershocks of the COVID pandemic and the ongoing Russia-Ukraine war.
It has promised to turn around the economic fortunes of the country after sealing a Staff-Level agreement with the IMF with the hope that funds from the US$3 billion facility will be released early this year.
Source: www.ghanaweb.com