The 64 Battalions with Iwan shake tables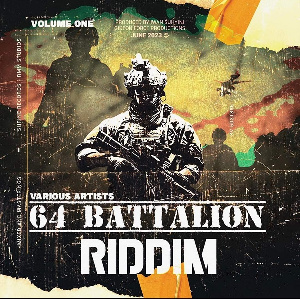 Ghanaian dancehall and reggae singer, Iwan, known in real life as Abdul Razak Issahaku shakes the tables with the release of 64 Battalion Riddim Album Vol. 1
The 42-track album is a spectacular exhibition of talents and gifted artistes from all parts of Ghana and the world. A lot of beautiful stories have been told in the album, and a lot of beautiful melodies have been sung to soothe souls.
The 64 Battalion Riddim is one of the best productions I have heard in quite a while, and its uniqueness has drawn the interest of artistes of different genres and backgrounds. From the budding, up-and-coming, already exposed, and mainstream.
The title of the album (64 Battalion) is inspired by the 64 Infantry Regiment, formed from the FRB at Gonda Barracks, Burma Camp, on July 1, 1993. It is arguably the toughest and one of the most disciplined military regiments in the country, located at Asutsuare. With the motto "Honour in Sacrifice". The always gallant 64 soldiers inspire discipline, resilience, and a good sense of responsibility, carrying an air of self-sufficiency and self-reliance.
This brainchild of Iwan and the Gideon Force is to put all artiste in a good light and also create revenue. Artistes on the album are entitled to a 50/50 split with the producer for all royalties accruing to each song performed by them.
I am certain these beautiful songs and their videos will take over the airwaves in the coming days. I am looking forward to the songs "Nuh Give Up" by Renner, "Never Look Like Your Problems" by Trey La, "Mad Over Gal" by Burning Faya, and other very spectacular ones.
Congratulations to Iwan and all artistes that have made it to the album! Let us show our support by streaming these songs.
Source: Trey La Worldwide