Tension between Akyem Abuakwa, Kotoku heightens as Okyenhene enstools parallel chief in Adoagyiri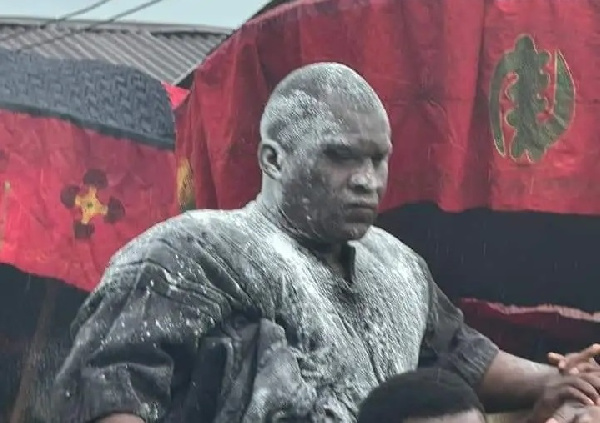 There is heightened tension between Akyem Abuakwa and Akyem Kotoku traditional councils following enstoolment of a rival chief of Adoagyiri under the authority of Okyenhene Osagyefuo Amoatia Ofori Panin.
The new chief Barima Adu Korkor III was enstooled on Saturday 19th August, 2023 under heavy police security of armed police and Okyeman Taskforce.
However the opposing faction from Akyem Kotoku say Adoagyiri has legitimately gazetted chief for the past 15 years in the person of Okoanadwo Afutu Dompreh II debunking claim by Akyem Abuakwa traditional council that the incumbent chief is illegitimate since he was not enstooled by Akyem Abuakwa traditional council.
They have described the enstoolment today as illegal and provocative capable of disturbing the peace of Adoagyiri.
In earlier press conference held on Monday March 20,2023 by the aggrieved youth of Adoagyiri and Akyem Kotoku,the convener Barima Nana Arkoh-Frempong Oware said "the Judicial Committee of the Eastern Regional House of Chiefs on the 2nd February, 2022 with suit number- JC/ERHC/AP1/2008 gave legitimacy and confirmed Okoanadwo Afutu Dompreh II as Chief of Adoagyiri and Ankobeahene of Akyem Kotoku Traditional Council, so on what bases is the state secretary and Akyem Abuakwa Traditional Council saying that Kotoku Adoagyiri has no chief?"
They said, there has never been a record or evidence of the title "Barima Adu Korkoor II" in the books of Adoagyiri Stool nor in the records of Akyem Kotoku Traditional Council but rather Okoanadwo Adu Korkoor as chief of Adoagyiri and Ankobeahene of Akyem Kotoku.
"What has the Abuakwa state been doing since 8th November, 2007 when Okoanadwo Afutu Dompreh II sworn the oath of allegiance to Kotokuhene, Oseadeayo Dr. Frimpong Manso IV.
The reference that Barima Adu Korkoor II sworn oath of allegiances to Akyem Abuakwahene is both criminal and distortion of facts. It is on record, that Okoanadwo Adu Korkoor was the Ankobeahene of Akyem Kotoku state and Chief of Adoagyiri. We therefore call on the Abuakwa State Secretary to go back and learn his history well."
The youth called on the President Akufo Addo,the Inspector General of Police, Ministry of National security, National Investigations Bureau, Eastern Regional Minister, Ministry of Chieftaincy and Religious affairs, Ministry of interior, Ministry of Defence, National House of Chiefs and the Peace Council to intervene as a matter of urgency to maintain sanity in Kotoku Adoagyiri and its environs to maintain peace in the community.
Impasse between the two traditional councils has led to injunction on the celebration of Odwira Festival planned to be organized by Okoanadwo Afutu Dompreh II Chief of Adoagyiri ,and acting on behalf of Kotoku traditional council.
A press conference by the Akyem Abuakwa traditional council at Kyebi Monday March 13,2023, addressed by the State Secretary, D. M. Ofori Atta said, Adoagyiri has since historical time been part of Akyem Abuakwa and falls directly under the Apapam stool which is an integral part of the Amantuomiensa Group of the Akyem Abuakwa state," records indicate that all substantive Adoagyiri chiefs have been part of the Akyem Abuakwa state council inclusive in the records are evidence of land transactions."
Source: starrfm.com.gh