Teacher shares video of flood water taking over his classroom, forcing students to stand on tables, roof for safety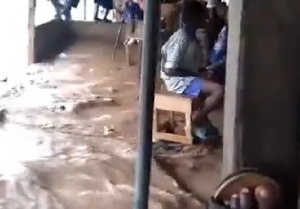 The said video showed water rushing through the classroom, an uncompleted structure made of a short wall and a roof.
Teaching and learning had ceased and all the students could be seen either standing on their tables or holding onto the roof of the classroom for their safety.
The teacher, who took the video, was himself taking shelter on a table.
According to him, this is the ordeal they go through after every rainstorm.
He called on the government and non-governmental agencies to come to their aid.
"We are pleading that you should just assist us from this mess. It is too much. Look at the students, some of them are on top of the wall, some are standing on tables," the teacher could be heard saying.
Watch the video below: