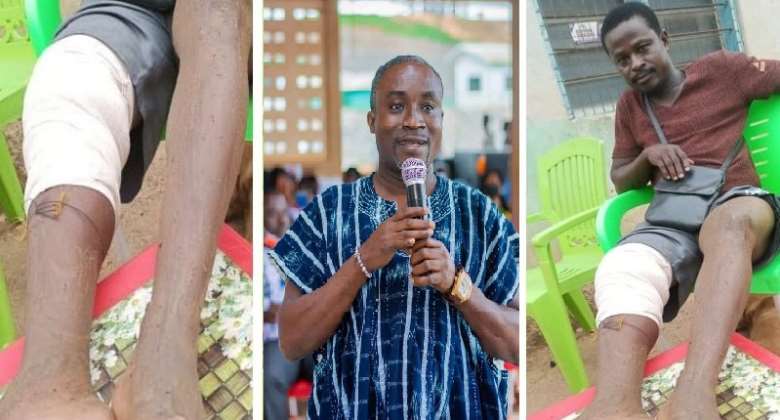 There appears to be a growing sense of resentment between the Tarkwa Divisional Police Commander, Chief Superintendent George Kumah, and the Municipal Chief Executive, Benjamin Kesse, over an alleged manhandling of a young man Yaw Arthur known to be a protégé of the MCE's.
According to reports, Yaw Arthur had described the Police Commander as 'Sasrabonsam' during a community radio discussion. 'Sasrabonsam' is an Akan word which refers to the devil.
In an audio, in the possession of Connect FM, Yaw Arthur and another person are heard discussing the Commander in a radio interaction over a protracted chieftaincy dispute at Dompim.
The two faulted Chief Supt. Kumah for his alleged support for one of the feuding parties and in doing so hounding members of the other faction.
Not pleased with the Police Commander's involvement, one of them described him as 'Sasrabonsam'.
"We are aware that the Tarkwa Police Commander is the family head in this community. We know his track record in this community and it is very bad. I can authoritatively say that he was born by Sasabronsam ,that is why he behaves like that but we are ready to meet him boot-for-boot," the voice in the audio sounded.
The Commander is reported to have got wind of the discussion and reportedly "sent his men to pick him up".
Speaking on the Thursday, January 13 edition of the Omanbapa morning show on Connect FM, Yaw Arthur indicated that he was beaten mercilessly in the presence of the Commander, stressing "the beating was so severe that I couldn't even walk and had to be carried downstairs".
But in a response, the Police commander, Chief Superintendent George Kumah told host Nhyiraba Paa Kwesi Simpson that the victim is not being truthful.
He claims that the young man is being influenced by the Municipal Chief Executive to damage his hard-earned reputation.
"They have been trying to make the Dompim community ungovernable but as a police command, we shall not allow them. They are hiding behind chieftaincy disputes with support from the MCE and have been creating all forms of confusion in the community. Anytime we try to make peace, they make up stories against us. We picked him up and when he was arriving at my office, he fell down and I even offered him money for medical care. All the stories he has been spreading around never happened, nobody touched him," the Commander said.
Speaking later in an interview, MCE Benjamin Kesse expressed utter shock at the pronouncement of the Police Commander on air.
"I am surprised. If for any reason you think or suspect that I have done anything, the best is for him to have contacted me and we talk about it. His option is surprising. How will we be able to strategize about the security of the municipality together if this is what he harbours for me."
He continued: "This whole issue about Yaw Arthur is suspicious. I have a text message from the Police Commander threatening to bring Yaw Arthur down. And for whatever reason, he alone knows."
—3news.com