'Take it easy oo' – Nigerians react as Omar Sterling manhandles Wizkid in a viral video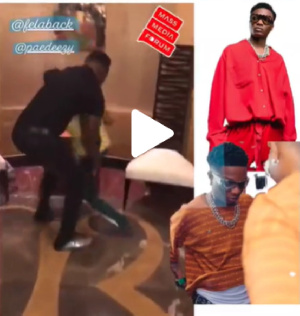 Nigerian internet users have expressed concern for the health and safety of Nigerian music megastar,
Wizkid
 over a viral video of him with Ghanaian rapper, Omar Sterling of R2bees fame in a friendly wrestling bout.
In the said video, the rapper was captured throwing Wizkid from one sofa chair to another as he asked the singer if he is capable of standing him in a fight. In the video, he said, "Ah, but you, you go fit to fight me, you go fit?"
Wizkid on the other hand laughed wholeheartedly as he tried to escape the grip of Omar Sterling formerly known as Paedae to escape to another room.
Reacting to the video, Nigerian fans pleaded with Omar Sterling to handle Wizkid with care because he is fragile and their only superstar.
One user said, "Be careful now, na natural treasure that ", another user said, "Oga find the way you dey fall for ehn body make we nor come find you."
The Nigerian superstar and R2bees have been friends for over a decade now. In 2018, when their friendship came under a test when the public thought their friendship had gone south after Wizkid's failure to sign the duo to his record label, Starboy Records, the Nigerian singer explained that, their friendship was not contractual but borne out of true love and respect for Ghana.
Here is the video of the wrestling bout between Wizkid and Omar Sterling
Source: www.ghanaweb.com