Tablets for SHS students begins 2023/2024 academic year – Education Minister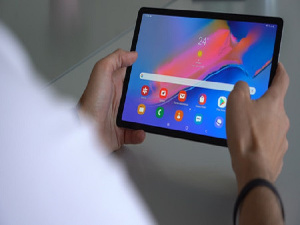 The Minister of Education Dr. Yaw Osei Adutwum has announced that distribution of free tablets for senior High School students begins this academic year.
Vice President Dr. Mahamudu Bawumia speaking at the New Year school at University of Ghana on January 17, 2023 promised that as part of the digitalization agenda, government was going to distribute electronic tablets to all Senior High School, and Technical Vocational and Education Training students in the Country.
The Minority in Parliament demanded explanation on Ghc740 million allocated for the project under Special SHS TVET digitization program.
However, speaking at 2nd edition of STEM roadshow in Abomosu STEM Senior High School in Eastern Region, Dr. Yaw Osei Adutwum said, the announcement by Vice President was not a political talk.
He said about 30 schools are going to benefit from the first phase of the Program.
"Starting from November when school opens every student is going to have a tablet. One student – one table. I can assure you this is not a political talk. I have seen the tablets with my own eyes. It has been tested in a number of schools and the learning management system is under construction and it is coming to a school near you".
Dr Yaw Osei Adutwum continued "about 30 schools are going to experience the magic of learning through learning management system with the use of tablet to access contents that have been uploaded online. Our schools are going to be just like any other school in the world," he said.
The Minister of Education stated that, despite economic challenges government has prioritized education with massive investment in STEM and TVET education to churn out the next generation with the skill set for industrialization, and have growth mindset, are critical thinkers, creative and effective communicators.
He said, 12 Senior High Schools including Serwaa Kobi SHSs will soon pursue aviation courses to build capacity of the students interested in aviation and related sciences.
Dr. Yaw Osei Adutwum refuted claims that government has neglected Basic Education on the contrary said modern educational infrastructure with state-of-the-art learning logistics and laboratories are being put up to advance quality STEM education in basic school.
"Govt has not forgotten basic Education in the country. With the support of Arab Development Bank, now a number of school buildings are being pulled down new ones are replacing them. Government is constructing model Junior High Schools includes biology, physics, computer labs".
Minister of Information Kojo Oppong Nkrumah emphasized that Free Senior High school program has significantly increased enrollment reducing the number of students who could not go to secondary school from 30 % between 2013 to 2016 to 11% in 2017 to 2019.
He however acknowledged challenges associated with the program but says are being fixed despite economic challenges facing the country.
Mr. Oppong Nkrumah mentioned for instance that, GETFUND has been making significant effort to address the accommodation challenges stressing that between 2017 and 2021 alone, GETFUND initiated and completed 710 infrastructural projects representing 63% of all projects initiated.
These include: 308 Classroom Blocks Completed (3 units, 6 units, 12 units and 18 units), 180 Dormitory Blocks Completed (Single Storey, 2-Storey and 3-Storey), 55 Rehabilitation Works, 128 New Wash facilities Completed, 29 Day Schools Completed and 9 New Model SHS under construction.
Kojo Oppong Nkrumah stated that brick by brick STEM Education is "laying the foundation for what should be a bright future for the next generation of civil engineers, architects, industrial machine developers, aviation experts and the like".
President of Association of Ghana Industries (AGI) Seth Twum Akwaboah said the huge skill set deficit in the country is affecting industrialization of the as many companies that have interest in establishing industries in Ghana either abort their plans due to lack of skilled human resources or employ from other West African countries.
He therefore lauded the ongoing paradigm shift to STEM and TVET education to fill the skill set gab.
Some of the over 600 students enrolled in Abomosu STEM Model SHS shared their experience on STEM Education in the school and expressed confidence that emphasis on practical lessons is providing them knowledge for applied science.
Source: kasapafmonline.com